The Classic's guide to this year's fall fashion trends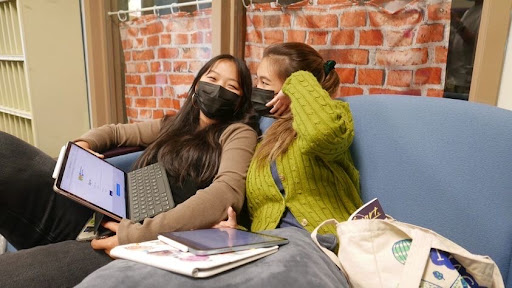 With pumpkin spice lattes brewing and leaves falling to the ground, autumn is finally here. Here is The Classic's  guide to the latest fall fashions that Townsend Harris students are following.
Returning for another fashion-tastic fall are the Jadon Smooth Leather Platform Boots, which are great for cozy padding around your foot, and the 1461 Quad Lace. These Doc Martens are a timeless go-to shoe for matching all fall outfits and don't make too much of a bold statement. Most Harrisites choose to sport black Doc Marten boots as they add a "cleaner" look to one's outfit. Both shoes are simple, yet sophisticated; casual, but dressy. Freshman Kelly Vu stated that the shoes make her feel "cool and confident." However, take note that these shoes are often  harsh on the toes and painful when you initially get them and keep them on for long periods of time. Sophomore Nicole Wikieria said that, "As a THHS student, [Docs] are more of a shoe you'd wear on a Friday, due to the half day." Similarly, Hailey Ahn said to"not wear them on days that your legs are tired [because] they'll drag your feet down." That means wearing them out a couple times so that your feet get adjusted to them and there's less discomfort. 
Oversized jackets and cover ups of all varieties are going to be a lot more prevalent this season. This range includes trench coats, cardigans, leather jackets, and blazers. Many students also wear graphic sweatshirts, knitted sweaters, and your typical zip-up hoodies as there are so many different options to fit whichever style you're feeling. Sophomore Alex Yauri finds that this "oversized aesthetic" is "cool yet comfy." Layering is a huge part of fall fashion styling and adding a jacket over an outfit can be what makes it go from "nay" to "yay" Furthermore, the oversized aspect simply provides one with more comfort and warmth – especially against the chilly autumn winds – without actually taking away from highlighting the outfit.
Long skirts are also in style this time of year. While summer was all about mini skirts, autumn afternoons were made for midi & maxi length skirts. These are often paired with a type of stocking, tights, or even leg warmers. Wearing longer skirts during the fall is a transitional period from summer to winter fashion. "Itty-bitty" skirts/shorts are popular in the summer, but as the weather cools, many choose to wear longer bottoms to prepare. While summer fashion is all about the brighter, more vibrant colors to match the sunny, lively atmosphere, autumn fashion has more red, orange, and brown tones (neutral colors) to blend nicely into the fall environment, where the leaves are changing color and falling, and the sun seems to not shine as bright. 
Claw clips lasted all throughout the summer and are well on track to continuing their hot streak in the fall. Claw clips make for a messy yet aesthetically pleasing hair-do. They are also quite easy to put on and adjust. Simply grab your hair, twist it around, and use the clip to attach it to the back of your head. These can be particularly useful for those days when you're running late to school or have an early morning zero band class. 
On the same theme of hair accessories, beret hats are very much in style this year; they can conceal bad hair days and even hide that horrendous haircut. Junior Pema Sherpa said she is intrigued by how "classy and chic" they look.
Although these trends may not appeal to everyone, these apparel ideas can help one incorporate different pieces into their own daily outfits and ultimately help them find their own style.
Leave a Comment
Your donation will support the student journalists of The Classic. Your contribution will allow us to purchase equipment, support our extracurricular events, celebrate our staff, print the paper periodically, and cover our annual website hosting costs.