A Blue Christmas

The iconic 'white Christmas' is what often comes to mind when imagining the holiday season – thick snow blanketing the streets and trees, reflecting the glitter of the lights, and inspiring a sense of nostalgia.  While its image remains prevalent, its reality becomes less prominent. As climate change progresses, it may be more reasonable to expect rain rather than snow here in the city.
Based on data from the last three decades, the average snowfall for New York City during December is 4.9 inches, with the first appreciable snowfall usually occurring around the 14th. Eight days past that date, we've yet to see any decent snow. Though there have been flurries here and there, none of it has been able to accumulate up to an inch, the white Christmas standard.
Although we received no snow this Christmas, we did experience sub-freezing temperatures, with some parts of the city having a high of 14 degrees on Christmas Eve, and a high of 27 degrees on Christmas Day.  
As for precipitation in New York City, junior Reah Robyn said, "So far this season, there's only been dry days and heavy rain. I look forward to the snow every wintertime, so not having it for a while doesn't really feel like Christmas." Sophomore Silga Chisim expressed disappointment as well. She said, "The weather [before the past few days] is much warmer. Now the weather is so warm even in the winter time."
Studies have shown there is only a 10%, 11%, and 12% chance of it snowing by Christmas in areas in Manhattan, Brooklyn and Queens, respectively. The unlikelihood of snow isn't completely unusual; a white Christmas is not a completely routine occurrence in the city as it is upstate. However, it has been over a decade since our last recorded white Christmas, which was in 2009 with two inches of snow. This is well past the historical expectation, which is one white Christmas every six years. 
There have been stretches like this in the past, such as from 1970 to 1982, and from 1930 to 1945, so that fact alone shouldn't be particularly alarming. The frequency of a weather condition on a particular day is somewhat determined by chance. Still, it seems as if we are moving towards a period where snow days in general are becoming more rare. Data from 264 stations across the country report that 97% of the stations have shown an increase in the average temperature during the 12 days of Christmas (December 25th to January 5th) since 1969. According to the new 1990-2020 Normals from the National Oceanic and Atmospheric Administration (NOAA), virtually everywhere in the United States has risen in annual average temperatures since the beginning of the 20th century. The New York State Department of Environmental Conservation has confirmed a shorter snow season and more winter rain than years past.
Such changes in New York City's historical weather patterns are confirmed to have been due to an intensifying global warming scene, which NASA has attributed humans as the fundamental cause. A majority of this activity concerns the burning of fossil fuels, which raises the levels of heat-trapping greenhouse gasses in the atmosphere. This heat blanket has caused average weather patterns that have come to characterize local, regional, and global climates of Earth to change rapidly. 
The effects of global warming and climate change have led to decreased food production, increased health risks, poverty, displacement of communities, hindering the lives of many this holiday season. According to the New York State Department of Environment Conservation, longer and recurrent heat waves are putting a strain on New York's agricultural industry, energy infrastructure, transportation network, and citizens' health and safety. Flooding, erosion, and storm surge are getting worse due to sea level rise along the beaches of Long Island, New York City, and tidal portions of the Hudson River.
Senior Sajid Ibrahim said, "I think climate change is something that needs to be addressed.  In just a few years, memories that you made in the snow will become a kind of relic from the past."
Photo courtesy of Classic Photography
Leave a Comment
Your donation will support the student journalists of The Classic. Your contribution will allow us to purchase equipment, support our extracurricular events, celebrate our staff, print the paper periodically, and cover our annual website hosting costs.
About the Contributor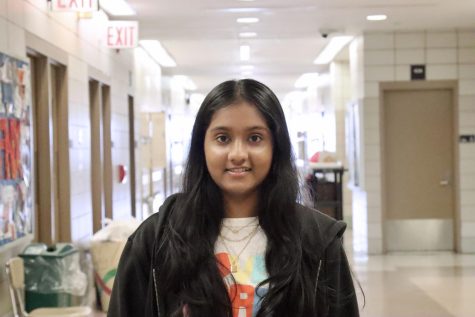 Aastha Patel, Science & Technology Copy Editor
Aastha is a junior at Townsend Harris High School. Her favorite activity is watching horror movies at night. She also enjoys going to theme parks.