Athletes share their 2023 goals

New Year's resolutions have long been integrated into our lives as a method aimed to spark a period of personal growth amongst individuals. With 2023 here, students engage in retrospection, as they evaluate the highs and lows of the concluding year. For athletes, New Year's resolutions mark an opportunity to truly reflect on their performance throughout the year, and gauge what aspects of their respective sport they would like to improve on. 
Several Harrisite athletes shared their resolutions for the New Year. Junior Anila Tinaj, who plays on the Girls Varsity Volleyball Team, hopes to improve her hitting, an integral volleyball skill, by "jumping higher, having better control, and hitting with greater power." She plans on achieving these goals through maintaining a consistent gym schedule and training at least four times a week, which encompasses weightlifting as well as "simple activities such as taking walks to stay active." Junior Fencer Victoria Madej shares the same motivation to improve individual skills, specifically blade work, saying "it is important to work on perfecting a skill before implementing it in competitions." 
Senior Badminton Captain, Tiffany Lee, plans on enhancing her game strategy and consistency in order to surpass future opponents. She also hopes to become an "accommodating and supportive captain" as she assumes the captain role this upcoming spring season. Sophomore Alex Yauri, captain of Boys Cross Country and Track, strives to increase his endurance and gradually work towards becoming a better long distance runner. In terms of reaching new personal records, he intends to break his three minute time in the 1k run by going on more jogs during his free time. 
In order to fulfill his primary goal of becoming the starting libero during the 2023 Boys Volleyball season, junior Volleyball player Carl Michael Go plans on devoting more time. He said, "I have begun early conditioning by joining the Indoor Track team. Not only that, I plan on attending a Recreation Center to ensure my game IQ remains at a decent level whilst also being able to get my reps in. Soon, I also hope to go to the gym or school weight room often so I can work out all aspects of my body." 
Junior Basketball player Andrew Chen reveals a different approach towards achieving his goals. He explains that developing a stronger mindset is particularly important in attaining his goals of "taking more shots and attacking the basket" during games. Senior Basketball Captain Aissatou Lam agrees and strives for more confidence while playing. She further shares that "devoting more time outside of in-school team practices" may contribute to improved rebounding and dribbling skills. 
Through enforcing new habits, many athletes are anticipating an exciting, victorious season. "I'm excited for the gym to help me improve not only physically but also mentally. I'm hopeful that I'll be very athletic and prepared for my 2023 sports season when it comes around," said Anila. Moreover, Andrew describes a similar expectation, saying, "I'm excited to play in a rematch with better teams to see how much we've improved." Carl expresses that the idea of a new season and the opportunity to play motivates him to set ambitious goals this year to reach his full potential.
Leave a Comment
Your donation will support the student journalists of The Classic. Your contribution will allow us to purchase equipment, support our extracurricular events, celebrate our staff, print the paper periodically, and cover our annual website hosting costs.
About the Writer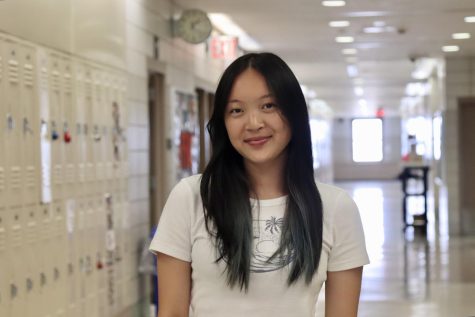 Chloe Mau, Sports Editor
Chloe Mau is a senior at Townsend Harris High School. She enjoys playing volleyball and baking in her free time. Her favorite memory from the 2022 - 2023...