New Girls Varsity Badminton Team Captain shares hopes for this season

The Girls Badminton season has kicked-off, and badminton coach Vaselios Sioukas has appointed senior Tiffany Lee as captain. Following a hard-fought season last year, Tiffany is devoted to accomplishing her goal of emerging on top this season. 
Tiffany was introduced to badminton at a young age while playing recreationally with her dad. She officially began training in middle school and developed a great fondness for the sport. 
Being a captain holds a great deal of responsibilities, from organizational duties to coaching the team. Tiffany explains the intricacies of teaching her teammates the basics of the sport and applying one-on-one training. "I have to think about who to focus on during every practice, how to use all three courts effectively, and how to spend time outside of school to practice," she said. 
When asked about her goals for this season, she said that her primary goal is to win the championship while simultaneously setting a standard for what the team should look like next year. Stressing the importance of developing a reputation following the triumphant boys badminton season, Tiffany said, "My first involvement with the badminton team was with the boys team who got to win champs during last year's season, and I feel like the girls always have a lower standard compared to the boys— which I really wish that wasn't the case— so I'm trying to make a team that's very, very strong." 
Tiffany also emphasized recovering the team from the time they lost during the pandemic, which "made the learning process much more difficult." Yet, she expressed that the badminton team is one of Townsend Harris High School's smaller,, tight-knit teams. "Everyone is extremely passionate about badminton, and I feel like we definitely bond over that because we are willing to spend so much time outside of school playing, coaching each other, and doing team bonding," she said.
Coach Sioukas spoke to The Classic about the qualities Tiffany holds that compelled him to appoint her as captain. "Tiffany is by far the most talented on the team and most knowledgeable in the sport. Her speed, moves, and handling of the birdie and racket itself is incredible— it really is," he said. 
Coach Sioukas adds that Tiffany has already deemed herself capable of fulfilling the role in various ways, through "telling the team the mistakes they're making, along with correcting them." He describes how she embodies the characteristics of a strong leader, as she uplifts her teammates, devises game plans and strategies, and maintains constant communication with her team and himself
Junior Stephanie Zhang speaks on the efficiency of the team's practices under Tiffany's leadership. "When we practice, we almost all know what we have to do because of the consistency in our routine that Tiffany has established. Overall, [her efforts] have made this season flow a lot smoother."
Sophomore Rubi Kim said, "Tiffany does a great job motivating and drilling us while still having fun playing the game. I have definitely seen myself and the rest of the team improving thanks to her training."
"Tiffany holds drills where you get to work on the skills you aren't the best at, such as working on strengthening muscles or learning new techniques. She has a pretty big influence on our team as we all strive to beat her one day, and it's all due to her training, motivation, and her job as a captain," said sophomore Selina Lin.
As the season progresses, Tiffany is determined to maintain their undefeated record and utilize her leadership to pave a path toward the team's success. "I feel like in the past, we didn't have a lot of precedent for what a team should look like. This year though, everything is in my hands, so I have a full reign of how and what I should shape the team into now," she said.
View Comments(1)
Your donation will support the student journalists of The Classic. Your contribution will allow us to purchase equipment, support our extracurricular events, celebrate our staff, print the paper periodically, and cover our annual website hosting costs.
About the Contributor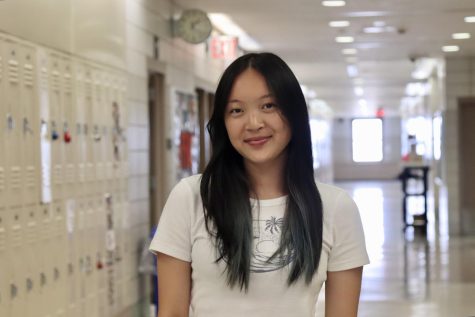 Chloe Mau, Sports Editor
Chloe Mau is a senior at Townsend Harris High School. She enjoys playing volleyball and baking in her free time. Her favorite memory from the 2022 - 2023...