Through Ms. Arlene Laverde, Townsend Harris introduced a new face to the school community this September.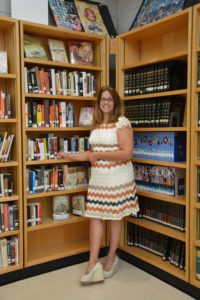 As the new librarian, Ms. Laverde believes that the library deserves a much-needed makeover. Rather than the library serving as just "a place to study" Ms. Laverde yearns to exploit all possible uses of the location. Including monthly activities, displays, and appropriate games to the library will transform the space into an open environment with versatile purposes, she hopes.
Prior to joining the community, Ms. Laverde worked at schools all over the city. Among the schools are John Bowne High School, East Brooklyn Community High School for Public Service, and several elementary schools. She has been a librarian for ten years and was an elementary school classroom teacher for sixteen.
While she sees the majority of THHS students reading for academic purposes, Ms. Laverde notices a lack of reading for pleasure coming from the student body. She promises to integrate her "wicked sense of humor" into the library's atmosphere to demonstrate that students "can actually have fun when [they] read."
Junior Ishabul Haque was taken aback when Ms. Laverde "came over to [his] table just to ask how it's going and get to know [him] a bit more." He suggests that her attitude makes the library a "more relaxing place to be."
"[Ms. Laverde] wants to build a relationship with the students," commented senior Jensine Raihan. "She took the time to have a real conversation."
In an attempt to create a new aura in the library, Ms. Laverde wants to bring in intellectual, communal games. She believes that board games such as chess can aid the students, initiate friendships, and challenge their minds while enjoying time spent in the library.
In hopes to lighten up the students' day, she wants to start a book club and incorporate a once-a-month "make-it" meeting where students can eat and talk whilst participating in that month's activity.
She wishes to bring the students together to illustrate how the library can be used as a medium for freedom and expression.
Ms. Laverde says she is "open to student suggestions about books they want in the library." Banned books, in particular, are considered highly esteemed by Ms. Laverde as she features her very own banned-books display every week.
In the time she will spend at THHS Ms. Laverde plans to encourage positive perceptions from the whole student body: "The library should be the place you come to because you want to," Ms. Laverde said. "Not because you have to."