Girls handball goes to playoffs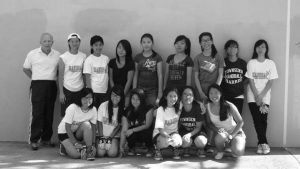 The pool on the roof, the vortex in the sixth floor bathrooms, and the Girls Handball team are some of Townsend Harris's best kept secrets.
"The team definitely needs more publicity," said Samantha Kwok, the junior manager of the girls handball team. "It's one of the minority sports at Townsend. Even Principal Barbetta didn't really know of our existence."
Despite their obscurity, members of the team love handball. Junior Helen Lin said that she joined because handball was fun, and that it made her more outgoing by allowing her to meet new people from other schools.
Sophomore Elizabeth Ha said, "When I play handball, I not only have fun, but I also plan and analyze where the ball should go. It is a fun, yet intellectual game for me. In addition, I also get to exercise, so it's a win-win situation."
Handball requires a good eye, a strong arm, and lots of running to hit a small, rubbery ball. It is similar to tennis, because after the ball is served, it can only bounce once before another person hits the ball. Unlike tennis, which requires a racket, only hands are used, and the ball is hit against a wall rather than over a net. A player gains a point when their opponent fails to make a legal return. In the Public School Athletic League (PSAL), teams compete in five matches per game – two for doubles match, and three for singles match. They must gain 21 points in order to win a match and three matches to win a game.
This year, the Girls Handball team had a record of eight wins and four losses. They were defeated by Bayside, Hillcrest, All City Leadership Secondary School, and Forest Hills High School. However, they still reached the playoffs.
After defeating HS for Enviormental Sciences, the team advanced to the second round against the undefeated Bayside and fought until the very end but were defeated 5-0, ending the season with an overall record of 8-6.
Looking ahead to next year, the handball team wishes to expand their roster.
"Even though we aren't a top-tier team, we always welcome new players who want to either improve their skills or start a new sport. Because our senior is leaving this year, we do need some more players," said Elizabeth.
Leave a Comment
Your donation will support the student journalists of The Classic. Your contribution will allow us to purchase equipment, support our extracurricular events, celebrate our staff, print the paper periodically, and cover our annual website hosting costs.