Balancing athletics and academics

Although THHS is known for its rigorous academics, it also hosts 32 PSAL teams. Each student-athlete must perform a balancing act in which they manage their time between academics and athletics.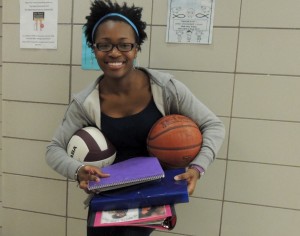 Athletes must attend meets, games and practices that are usually held fives times a week.
During soccer season, senior Nicole Bielecki arrives home as late as seven o' clock. "Once I get home [after practice], I start my homework around eight and finish around ten," said Nicole. "That's without studying for any tests."
Despite arriving home late, some student-athletes said that being part of a team does not significantly interfere with their time management. One such student-athlete is sophomore trackie Matthew Sullivan, who said, "It doesn't affect my time management; it just means I start and finish at a later time."
For others, sports improves their time management skills.
"Playing a sport improves dedication and concentration, which is then reflected in how you do in school," commented junior Paula Fraczek, a member of the girls varsity soccer team.
Junior Debra Chan, a member of the girls varsity volleyball, varsity basketball, and varsity softball teams added, "Being on a team has taught me to get my work done in an efficient and timely manner. It is challenging and sometimes very stressful when I sleep late from doing my work until 1:00 am."
On the other hand, several said that sports have negatively impacted them.
Freshman Marina Aweeda said, "I spend those extra three hours in school, so when I get home it's already fairly late, I'm exhausted, and I have so much work to do. It forces me to carefully manage my time so I don't end up staying up all night; I have to cut out social and relaxation time and fill every free second with work in order to get to sleep at a reasonable time."
"Practices and games severely decrease the amount of time I have to dedicate to my homework," said girls junior varsity basketball team member Kimberly Deodat.
Despite this, Kimberly believes sports have a positive effect on her grades, saying, "It really forces me to prioritize my tasks and get the difficult ones out of the way."
Although striving to achieve high grades may be the norm at THHS, it is necessary for students to perform well in school in order to be eligible to play on a PSAL team. Students must pass five credit-bearing classes, three of which must be common core classes, as well as one physical education class.
The feeling of failure does not cross the minds of THHS athletes, but it does affect their studying, especially for standardized exams. Junior Minhaj Rahman, a member of the boys varsity soccer team and the boys indoor and outdoor track teams, said, "It is much harder for upperclassmen because we have many more APs, SATs, ACTs, and subject tests to study for."
Senior Sierra Berkel, a member of the girls varsity basketball and flag football teams, agreed, emphasizing that discipline is critical: "During spring season of junior year, I managed flag football, AAU basketball, and SAT prep classes, so it can be done if you are willing to sacrifice."
Despite the time strain, student-athletes continue to dedicate time and effort to sports.
"The thrill of being on a team, whether successful or not, is a feeling like no other," Matthew said. "It builds up confidence, and at the same time increases athletic ability. "
"Being on a team in high school is definitely worth it," said Paula. "The increased school pride, the bonds you form with your teammates, and the overall experience are absolutely priceless."
Coaches recognize the balancing act student-athletes perform. Sierra, captain of the girls varsity basketball team, said that coach Lauren Caiaccia, "as an alum of Townsend, knows the challenges presented to athletes, so she advises us to not procrastinate and always put our best foot forward in the classroom as well as on the court".
Senior Stephanie Loo said of girls track coach Timothy Connor, "Since  Mr. Connor is a teacher, he's very understanding of the amount of work and pressure that students face at Townsend Harris. He's always emphasized to us that academics come before track, but that's not an excuse to skip practice to study for a test the next day."
Baseball coach Edgar Morales, a former varsity baseball player at Forest Hills High School usually had only one hour of homework. This is very different for his players who still "maintain excellent grades with a vigorous varsity schedule," something Morales thinks he would not  have been able to manage.
With all of this hard work, Morales believes that his players will thrive in college, saying "college is all about time management, and they are getting a firsthand experience which will help them tremendously in the future."
Leave a Comment
Your donation will support the student journalists of The Classic. Your contribution will allow us to purchase equipment, support our extracurricular events, celebrate our staff, print the paper periodically, and cover our annual website hosting costs.