Bending over backwards for the iPhone 6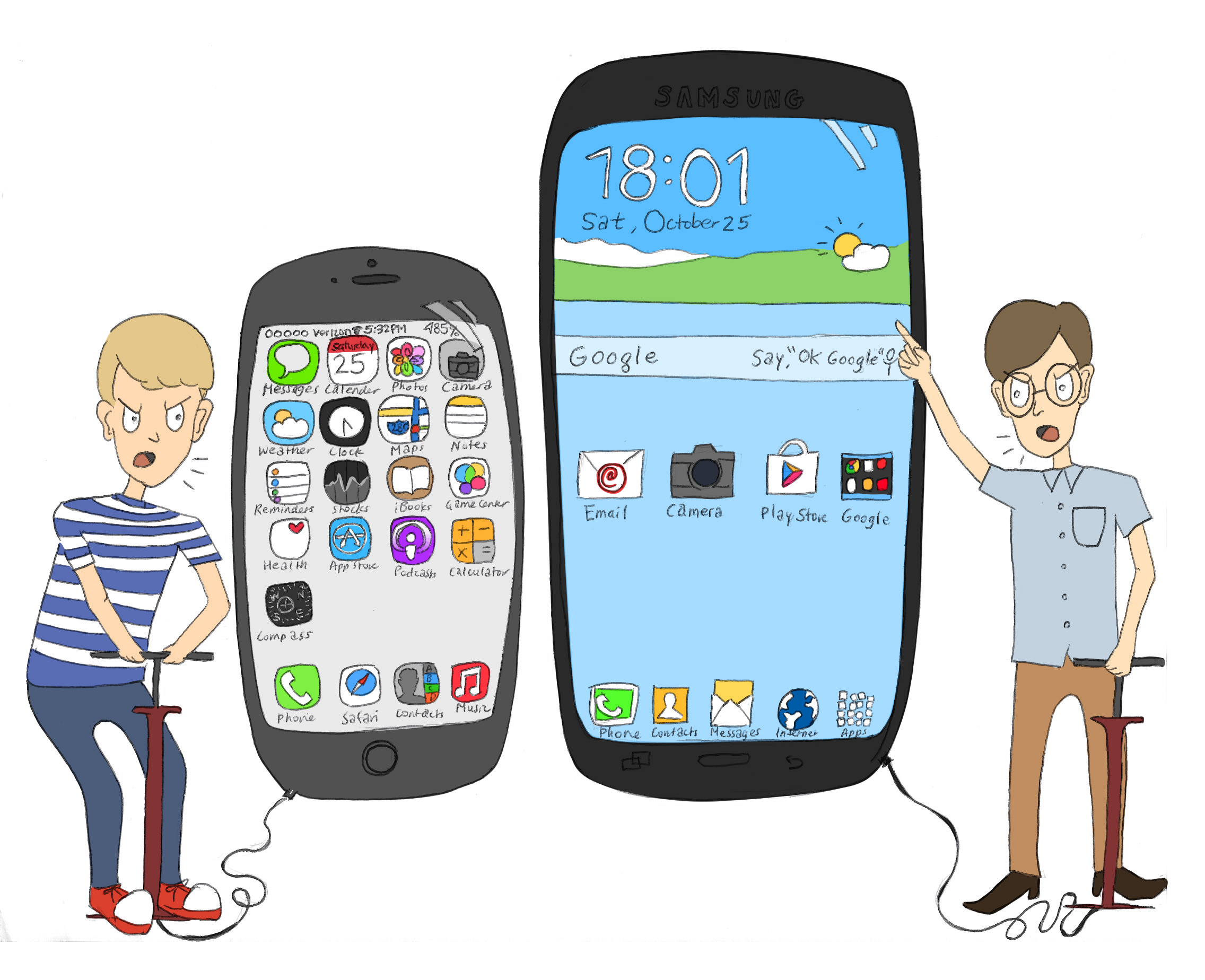 As Apple releases its newest product, the age-old debate once again resurfaces among the students of Townsend Harris: Apple or Samsung?
Sophomore Mitchell Mu was thrilled when the iPhone 6 was announced and immediately upgraded.
He said that he wanted the iPhone 6 because it had a "longer battery,… better camera,… and [a screen that is] larger than previous models."
He argues that although Samsung's phones have big screens as well, the iPhone's durability gives it the edge. Despite this, the release of the iPhone 6 came with reports of  the phones bending, especially when stored in tighter pants.
Junior Qasim Safdar also gave his decision deep thought.  He will get the new iPhone because it has a "bigger screen [and because] the glass is much harder."
The harder glass is particularly useful to him, since he broke the screen on his previous phone twice.
To freshman Amelia Lin, the phone is more aesthetically pleasing as opposed to what Samsung offers.  Or, as she simply puts it, "It's prettier."
Other Apple consumers, such as Humanities teacher Katherine Yan, prefers previous models of the iPhone.
She chose to buy the iPhone 5s instead of the 6, because she claims that the iPhone 5s has all the same capabilities as the 6, without the hefty price tag.
Buying previous models might not be the best idea, however.  Junior Rohan Sukhdeo said that his iPhone 5c was "really slow and had bad performance."
On the other hand, some people support Samsung over Apple.
Principal Barbetta prefers Samsung because he "[likes] the size, pictures, graphics, and apps."
When referring to the stylus that comes with his Samsung phone, he praises its utility, saying, "I like this gadget," because he uses it to take observations in class.  "You can't do that with an iPhone," he states.
However, Rohan claims that "the stylus is unnecessary for [his needs] and is just another thing to… worry about [breaking]."
In response to the Apple fans claiming that iPhones are "simpler" than Samsung phones, senior Jason Nieh said, "Samsung is simple."
He can easily navigate through his phone and can download useful and entertaining apps. However for him, the biggest advantage with Samsung is that their phones tend to be less expensive than Apple phones.
The iPhone 6 received a record-high 4 million preorders in the first 24 hours of release. For some, this would seem as a fitting number, but others remain surprised at the iPhone 6's apparent success.
With smart phones an ever more present part of the lives of Townsend Harris students, the question over what phone to get becomes as heated as any question of fashion ever did.
Leave a Comment
Your donation will support the student journalists of The Classic. Your contribution will allow us to purchase equipment, support our extracurricular events, celebrate our staff, print the paper periodically, and cover our annual website hosting costs.