Steel Hawks qualify for Worlds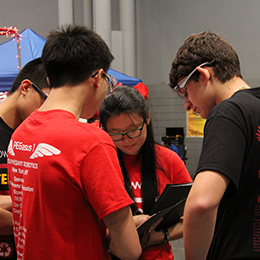 For the first time in the eight years since their inception, the Townsend Harris Steel Hawks will be competing at the 2015 For Inspiration and Recognition of Science and Technology (FIRST) Robotics Competition World Championship. The competition will take place at the Edward Jones Dome in St. Louis, Missouri from April 22-25, and will feature over 600 teams worldwide.
The team earned this opportunity after winning the Engineering Inspiration Award at the New York City FIRST Robotics Competition from March 13-15. The award recognized the Steel Hawks' commitment to spreading STEM literacy through various initiatives including teaching younger students about computer science and donating robot parts to teams in China. The team was also noted for the excellence of its own robots.
Steel Hawks captain and senior Jan Pazhayampallil, commented, "Whether it be our underclassmen or people in the community, our first priority is to spread knowledge to [younger students]."
Prior to winning the award, the Steel Hawks intended to reach the World Championships by outperforming other alliances in the NYC competition. However, they eventually experienced several difficult matchups towards the end of the competition and fell in the rankings.
Robotics coach and Physics teacher Joshua Raghunath mentioned, "Winning the award wasn't a specific objective of ours, but the team is honored and excited to have received such recognition for their efforts."
The team prepared for the NYC competition with a six- week build season beginning in early January and ending in mid-February, followed by a post-build season period leading up to the competition. Team members would spend an average of 50-60 hours per week working during build season and 25 hours per week during the post build season period.
"We go home at 10 almost every day. None of this could have been done without our mentors," mentioned the team's communications secretary, sophomore Darsiya Krishnathasan. "They can go home but they choose to work with us instead."
"It's been tough missing all these days of school, but this is a once in a lifetime experience," added junior team member and robot driver Marcus Barbu. "Being a part of the first team in our school's history to make it this far, that's really something else."
Robotics coach and Physics teacher Joel Heitman expects more of the same in the coming weeks, stating, "We're going to put in more practice hours and make small modifications to the robot."
A change in team culture and unity also helped make these achievements possible.
"This year we made a concerted effort to bring in new members and instill in them a learning attitude," said Steel Hawks vice president and co-captain, senior Neil Chen. "We taught them the basics, but otherwise it was their job to look up resources and train."
Mr. Heitman added, "This year we had the right combination of outreach and involvement."
Regarding the success, Mr. Raghunath commented, "The team's commitment and ability to ignite an interest in engineering, robotics, and STEM within the school and community deserve all the credit."
Assistant Principal of Math, Science and Technology Susan Brustein added, "So many people pitched in to make this victory possible–in particular I also want to comment on the incredible dedication of the faculty and some of the parents."
The Steel Hawks have also been fundraising extensively, recently holding a fundraiser at Applebee's in New Hyde Park. The team will be holding another Applebee's fundraiser in Flushing. All proceeds will go towards funding for the World Championships.
Steel Hawks member Swathi Mettela mentioned, "We need to pay for transportation to and from St. Louis, as well as within the city itself. We also need money for lodging, so every dollar is important."
In addition, the bits and pieces needed to build actual robots cost the team thousands of dollars.
Before the World Championships, the Steel Hawks will compete at the Long Island Regional FIRST Robotics Competition at Hofstra University from March 26-28.
Neil stated, "Having learned from the New York City Competition, we hope to field a more effective robot and cohesive team."
"The team's future is bright," added Jan.
Leave a Comment
Your donation will support the student journalists of The Classic. Your contribution will allow us to purchase equipment, support our extracurricular events, celebrate our staff, print the paper periodically, and cover our annual website hosting costs.