Seekers share music, coffee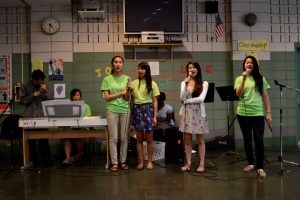 The Seekers Club held their Open Mic/Coffee House event on May 31.
The event commenced with Singspiration, the club's lead singing group, who sang three songs for the growing crowd. The audience swayed, applauded, and, in some cases, hugged each other during the songs.
Sophomore Jasmine Wang, Singspiration member, said, "I felt like I could connect to all the other people singing, and it really exposed the audience to what we were trying to convey."
Following Singspiration, junior Kirsten Baker sang the acapella of "All I Have Is Christ" by the Christian group, Sovereign Grace Music.
Another highlight of the event was an interpretive dance by the Body Worship team. A group of eight girls wearing the signature green Seekers t-shirts for the event, danced in sync to  Casting Crowns's "Who Am I."
Senior and club president Amanda Rosso revealed that her favorite part of the event was the skit, "God's Chisel." It portrayed four friends meeting and discussing what they believed were their most inept qualities. As a result, God came and taught them to appreciate themselves, explaining that the kids weren't mistakes.
"I really liked the way that God was portrayed, and I feel like it was convened in a different way; everyone was really captivated by it," said Amanda.
Though not a Seeker, freshman Ivy Lam enjoyed the event.
"Even though I'm not religious, I really thought it was a nice experience. I really liked the singing, and the food was good too," she said with a smile on her face.
"Religion is such a foreign thing to me, and I thought it was pretty interesting, and I'm pretty sure I'll come back again," she added.
Freshman Noah Silversmith stated that the event achieved its goal of spreading spirituality and unity among the crowd.
"Because this is the culminating meeting, now would be the perfect time to just bring everything together and bear our fruit through acting, singing, dancing, and sharing testimonies," concluded Amanda.
Leave a Comment
Your donation will support the student journalists of The Classic. Your contribution will allow us to purchase equipment, support our extracurricular events, celebrate our staff, print the paper periodically, and cover our annual website hosting costs.