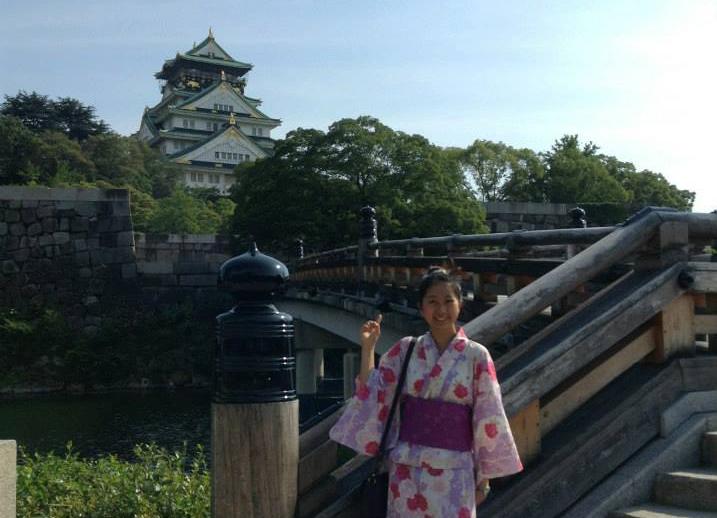 While many students stay at home or travel locally during the summer,  junior Christina Sue and senior Nirvana Thakur spent their time immersed in foreign cultures, having earned scholarships that allowed them to study with host families in Asia.
Christina spent six weeks in southern Osaka, Japan. The Mitsui USA scholarship, which was granted to her by the Youth for Understanding Organization, funded the trip.  After learning of the opportunity in Mariko Sato's Japanese class, Christina won the scholarship by writing an essay, acquiring teacher recommendations, and filling out a general form.
Christina chose Japan as her destination because she is currently studying Japanese at Townsend Harris. She wanted to "learn the language from its true environment," and said that Japan had "been a destination of [her] dreams."
Christina's host family consisted of two parents, an eleven year old brother, and a fifteen year old sister. From biking and shopping with her host sister to helping with chores, Christina grew close to them all.
"I called [the host parents] each "Otousan" (meaning "father") and "Okaasan" (meaning "mother")," Christina said.
She described her "Okaasan" as a quiet and serious woman who loved calligraphy. Her host sister was outgoing and loved language. She frequently played Italian music on the mandolin. Her host brother was a math whiz and enjoyed stargazing with his telescope.
During the day, Christina attended Tezukayama Gakuin, an all-girls private school. She rose early to catch the train for school, attended clubs in the late afternoon, and then returned home for dinner in the evening.
Regarding her club activity, Christina said, "In school, I joined the archery team, which was a very unique experience – definitely something I would not have done in the US."
Christina also visited the neighboring villages of Nara and Kyoto. In Nara, she saw the renowned wooden Buddha and fed the sacred deer. She then visited temples such as the 1001 statues of Kannon and the Kiyomizu Temple in Kyoto.
"I visited more temples than I could have ever imagined I would have in my lifetime," Christina said.
Before the trip, Christina was hesitant about entering a new country alone. Although language barriers were occasionally an issue, Christina ended up gaining the experience of a lifetime.
"Traveling to Japan by myself was a real eye opener – as any form of travelling far from home broadens one's horizons. In addition to learning the language and culture in Japan, I learned a great deal about myself as a person: my habits, faults, strengths, and quirks," Christina stated.
Meanwhile, in southeast Asia, Nirvana spent seven weeks in the Buriram province of Thailand. She won a scholarship from a student exchange program called the American Field Service Organization, which she contacted through the scholarship program Sponsors for Educational Opportunity. To win, Nirvana had to write a letter and be interviewed.
"I chose Thailand because many countries on the list were well known. I wanted a country that wasn't as famous, and Thailand was one of the countries that I always wanted to visit," Nirvana explained.
Every day Nirvana went to school with her host sister and learned about the Thai culture. She then contributed by teaching English and math to the eleventh graders.
After school, Nirvana and her classmates ate lunch in the cafeteria. There, she tried somtam, a Thai cultural dish otherwise known as spicy papaya salad. She often went swimming with her classmates as well.
Nirvana fell in love with Thailand and expressed that it was socially unique from America.
"In Thailand, everybody in school is closer than they are in America. The whole class eats breakfast and lunch together. The students are always with their class. Even if people don't know each other, they will talk with one another as close friends. Everybody is always smiling. Thailand is known as the land of smiles."