Boys fencing triumphs over Francis Lewis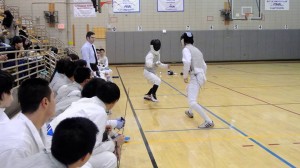 On Wednesday, October 23 the boys fencing team was victorious once again, defeating Francis Lewis High School and continuing their undefeated record. The foil team won by a score of 45 to 33, and the épée team won by a score of 45 to 26. This did not come easy for the Hawks. Some members of the Francis Lewis team have outside fencing experience at fencing clubs in Manhattan, and they challenged the THHS fencers, keeping the bouts close.
The first few bouts in foil were close, with the no team holding the lead for too long of a time, but as the bouts went on, the team began to fence better. THHS gained a larger lead in the eighth bout, with senior foil captain Daniel Restifo defeating his opponent by a large margin.
The épée team did not face such a challenge, winning their bouts more convincingly. Senior épée captain Jordan Brandwein was a standout, anchoring the épée team and leading them to their victory. There were some stoppages during the match, including one in order to fix a fencer's wire, and yellow cards, which are almost equivalent to fouls and penalties in basketball and soccer, were also given to some fencers for infractions such as covering the wire that is attached to their weapon.
Tensions at the match were high; the fencers were on the edge of their seats during the bouts, cheering on their teammates after every point. The team had good chemistry, often giving each other advice on the sidelines or just offering words of encouragement. "The team did incredibly well today, and everybody made fantastic touches," said sophomore David Zarowin. "Every fencer gave his all and we have a win to show for it."
Although they were victorious, the team still feels as though they could improve.
Junior Andy Hua said, "I think the match went well despite it not being our best performance. There are a lot of places where we could have done better, but in the end we got the win and that's what matters most."
Leave a Comment
Your donation will support the student journalists of The Classic. Your contribution will allow us to purchase equipment, support our extracurricular events, celebrate our staff, print the paper periodically, and cover our annual website hosting costs.