Research students gear up for NYCSEF finals

Written
This past March, students from Science (SR) and Social Science Research (SRR) classes participated in the New York City Science and Engineering Fair (NYCSEF), the largest high school research competition in NYC. Sponsored by the New York City Department of Education and the City University of New York, NYCSEF brings together hundreds of students from all five boroughs to compete for an all-expense paid trip to represent Team NYC at the 2016 Intel International Science and Engineering Fair (Intel ISEF). This year's top awards also include scholarships to study at CUNY's City College of New York and Hunter College as well over $4,000,000 in awards.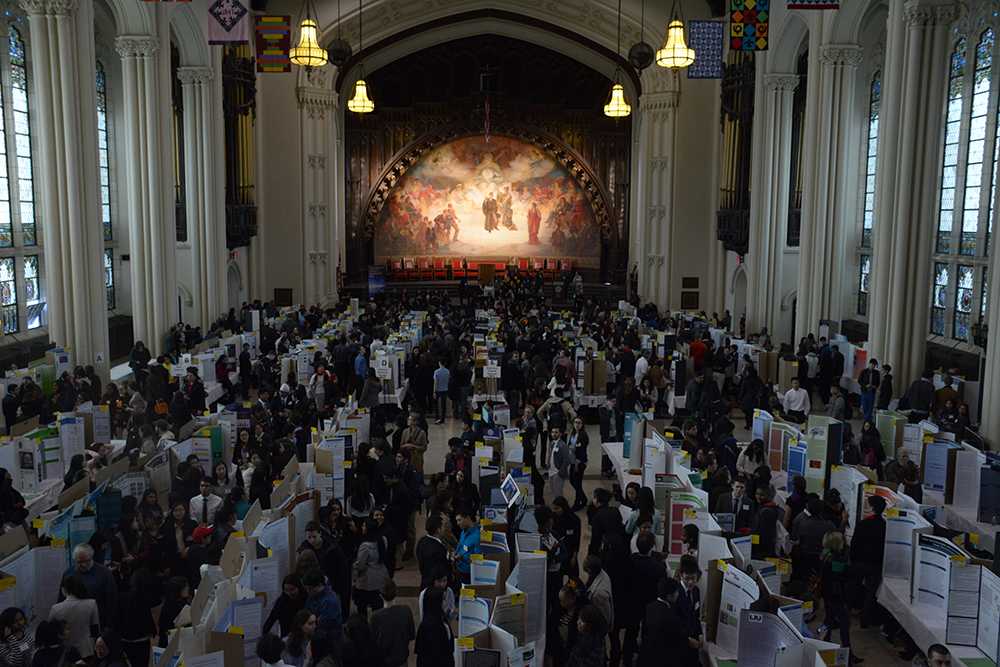 NYCSEF gives high school students the opportunity to conduct research in a variety of categories, such as computer science, biology, chemistry, physics, mathematics, and behavioral sciences, and then present their findings to judges who assess the quality of their research.
Senior Delphine Zheng, one of the SSR preliminary finalists, reflected on making it to the next round, "speaking to the judges about the research I spent two years conducting showed that all the hard work paid off and that they could see how passionate I was about my work." Delphine's project, entered under Behavioral Sciences, focused on the effect of parental expectations on student academic achievement.
In regards to what to expect in the next round, Senior Peony Tse, another SSR finalist, related, "The only expectations I have are to have a great time at finals, to learn from my peers and their projects, and to experience what it is like to be completely surrounded by intellectual curiosity and innovation." Peony's research tested the morals of high school students in relation to academic cheating.
Other preliminary finalists from the SSR class include Billal Allamarie, Dysron Marshall, Nathalie Rivas, and Meharin Arzu.
Senior Dalia Hassan, one of the SR finalists, commented on the arduous process leading up to the competition, "Conducting research at Queens College for almost a year was a tedious job, but moving on to the finalist round makes me feel as if my research was valid. It also strengthened my confidence in wanting to pursue research as a career." Dalia explored alternative methods of purification for human beta defensin 2 and recombinant spider silk.
In addition, finalists from SR comprise of Syeda Hassan, Cindy Jiang, Ivy Lam, Stephen Mai, Ariane Marchese, and Jesel Parmar.
The NYCSEF Finals Round will be held at the American Museum of Natural History on March 29th, 2016 and the Intel ISEF will take place in Phoenix, Arizona on May 8th, 2016. Best of luck to all Harrisites as they continue on to next round!
Leave a Comment
Your donation will support the student journalists of The Classic. Your contribution will allow us to purchase equipment, support our extracurricular events, celebrate our staff, print the paper periodically, and cover our annual website hosting costs.