5 Recipes to "Trick or Treat yo' self" on Halloween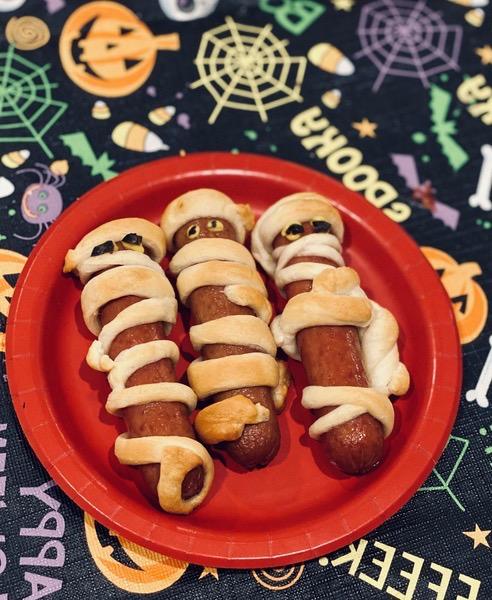 Halloween is less than a week away! Here are 5 recipes to help you get in the spirit.
Mummified pigs in blankets (feeds 10)
Ingredients: 
1 pack of store-bought biscuit or crescent roll dough

1 stick of butter

7 hot dogs

Your choice of condiment (mustard, mayo, ketchup, etc)

Black olives (for the eyes)
Steps:
Preheat the oven to 360 degrees and grease a baking sheet with butter.

Cook the hot dogs using your preferred method (boiling or grilling).

Cut each hot dog into 3 equal pieces.

Roll out the dough into thin, long strands and wrap around each hot dog piece to resemble the wrapping of a mummy.

Once each hot dog piece is wrapped, place each piece on the baking sheet and bake for about 15 minutes (time will vary depending on the brand of dough used).

Decorate the "mummy" by squeezing 2 dots of whichever condiment was chosen and topping the "eyes" with a small piece of black olive. 
Witch fingers and ghosts (feeds 30)
Ingredients: 
1 pack of green candy melts

1 pack of white candy melts

1 pack of purple candy melts

20 hard pretzel rods

Sliced almonds and mini chocolate chips
Steps:
Melt the candy melts in the microwave in separate bowls for about 1 minute each. Stir when melted.

Dip ¾ of each pretzel rod into the desired color (10 white, 10 green). 

Place the pretzel rods onto a piece of parchment paper and decorate with an almond "fingernail" and a chocolate chip "face."
Jack o' lantern cheese empanadas (feeds 5)
Ingredients: 
1 pack of Goya empanada discs (in freezer aisle)

1 pack of shredded mozzarella cheese (or any shredded cheese you prefer)

taco seasoning

A fork and knife

Canola oil or vegetable oil (to fry)
Steps:
Preheat about 4 cups of oil in a big pan.

Take 2 empanada discs and stuff them with mozzarella cheese. Spread some seasoning on the cheese. Secure the ends with a fork and shape in the form of a pumpkin. Carve a spooky face into each empanada.

When the oil begins to bubble, fry the empanadas on both sides until golden brown.

Try it with different fillings, such as ground beef or Nutella, for a dessert version of this snack.
Monster burgers (feeds 4) 
Ingredients: 
1 pack of ground meat of your choice (beef, turkey, chicken, etc)

Salt, pepper, and minced garlic (to season)

Burger buns

Pickles

Sliced cheese

Green olives

Toothpicks

Tomato

Lettuce

Onion
Steps:
Mix the ground meat, salt, pepper, and garlic into a bowl.

Form into 4 patties and grill until thoroughly cooked on both sides. 

Once the burgers have finished cooking, place each patty on a bun. 

Top the burgers with pickles as the monster "tongue," tomatoes as the "lips," and triangular cheese as the "teeth".

Lastly, close the burger with the other half of the bun and top with the monster "eyes": two olives placed on toothpicks that are stuck into the top bun.
Vampire bagels (feeds 4)
Ingredients: 
4 bagels  

Cream cheese

1 bell pepper

1 carrot

Raisins

Blueberries
Steps:
Cut the bagel in half vertically.

Spread cream cheese on both halves of the bagel, making sure not close the bagel.

Place the raisin "hair," blueberry "eyes," carrot "ears," and bell pepper "bowtie and nose" onto the bagel. 

Add more cream cheese to the center of the bagel in a "fang" shape. If this is too difficult, place plastic fangs on the vampire bagel as an alternative.
Picture courtesy of Mr. Sweeney
Leave a Comment
Your donation will support the student journalists of The Classic. Your contribution will allow us to purchase equipment, support our extracurricular events, celebrate our staff, print the paper periodically, and cover our annual website hosting costs.