New protocol reduces role of demerits to greater emphasize "support and intervention"

Principal Condon has recently shifted the enforcement of the Townsend Harris discipline code with a new school protocol: the Ladder of Referral.
Whereas students could previously receive demerits after a member of the school faculty  referred an infraction directly to the dean, the Ladder of Referral consists of several steps, or "rungs," before demerits may be issued. With seven steps in total, the ladder begins with a verbal warning from a member of the school faculty, and is followed by a conversation with a guidance counselor or Assistant Principal, a phone call home, a referral to the dean's office for demerits, a parent conference with a member of the school faculty, a parent conference with the student, a teacher, and the principal, and ends with suspension/detention. 
The following image shows what all faculty received at a meeting at the start of the semester: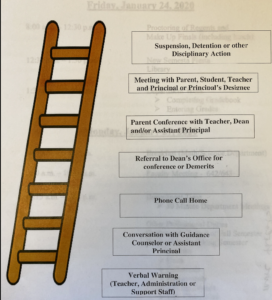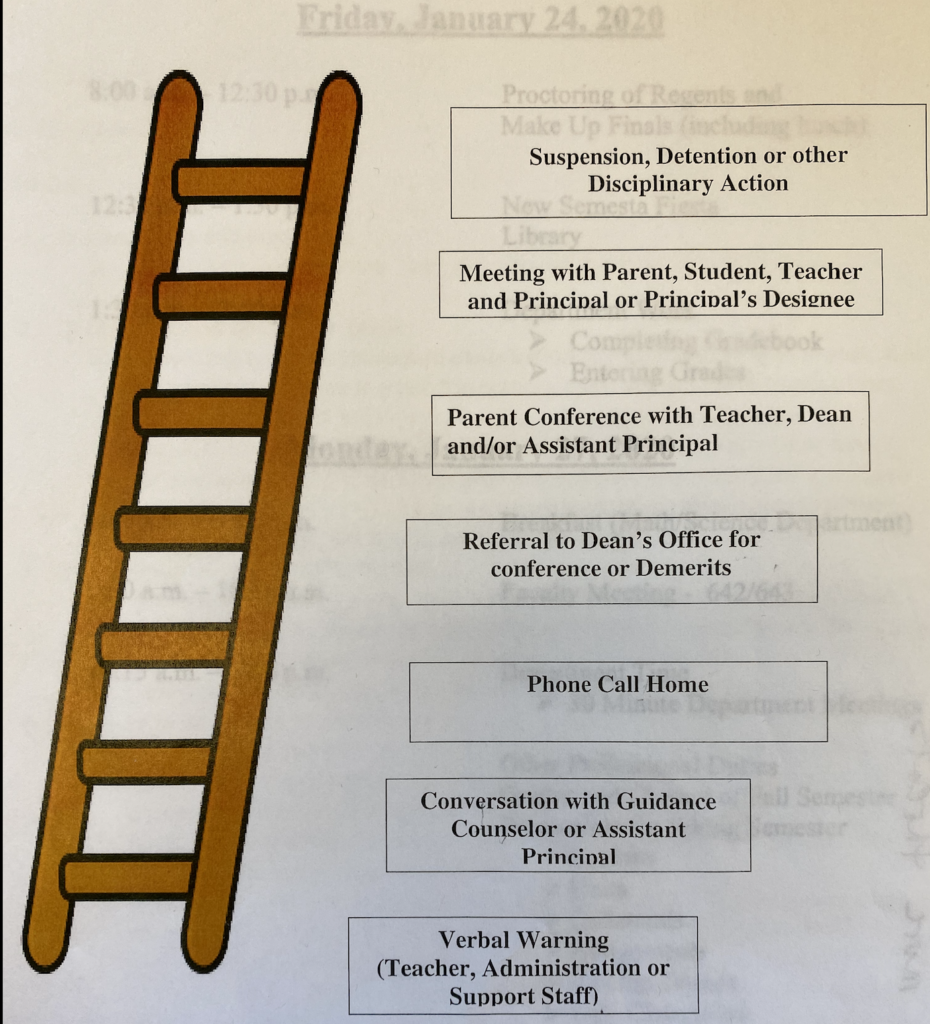 At a staff meeting on February 7, Mr. Condon explained the shift, encouraging teachers to use the leader to converse with students and parents before issuing demerits for minor infractions. According to the Citywide Behavioral Expectations to Support Learning Grades 6-12, schools may institute "support and intervention"(i.e. the ladder of referral) "in lieu of" or "in tandem with" disciplinary consequences. Of these two models, Mr. Condon has chosen to pursue a more conversation-based system "in tandem with" the distribution of demerits.
While the degree of an infraction will continue to correspond with the severity of the protocol that follows (the number of steps up the ladder), Mr. Condon emphasized that very few  of the offenses which occur across the narrower spectrum of rule violations at THHS could warrant ascending past the fourth step of the ladder (referral to the dean). Consistent repetition of behaviors the DOE has labeled "Level 1" infractions, such as using a cell phone in the hallway or arriving late to class after receiving warnings from school faculty, however, could move a student up the ladder until they eventually do receive a demerit. According to Dean Robin Figelman, more serious offenses, such as exhibiting violent behavior or behavior otherwise harmful to others would result in immediate and direct punitive consequences. 
In the few weeks since Mr. Condon announced this change to school faculty, most teachers have primarily issued verbal warnings and communicated with students' guidance counselors, teachers, and parents to address minor infractions. 
"Teachers have been reaching out to students and families, so they're doing more outreach than ever before, so in that sense teachers are starting to reach out to parents and notify them when their students are cutting, when they're late," said Ms. Figelman. "It's starting to hold teachers accountable for finding out why their students aren't doing what they're supposed to be doing."
Mr. Condon said, "The idea is not to punish; the idea is to change behavior. I believe personally in giving people the benefit of the doubt until they show me otherwise. I think it's a better way to interact with people."  
PTA President Bill Rettig commented, "My gut feeling is I like it. I think it's more dignified, less demeaning to open up a conversation with a student rather than giving them a demerit. It opens up more civility in a school environment, and I think students will respond more positively to a conversation. I think it's good to give students the benefit of the doubt."
Nevertheless, UFT chapter leader Franco Scardino expressed concern about the effectiveness of this new form of discipline.
"This is just a way of making it harder and harder and harder to get to the step where you actually refer it to the dean, and when I say harder, it makes it tedious, it's time-consuming, and it's designed to basically have the teacher sort of put up their hands and go, 'You know what, I don't have time to do this,'" he said. "I wish the focus would go back to teaching and learning and what's happening in the classrooms rather than spending this inordinate amount of time changing things that were not broken in the first place."
He also observed that many other teachers were uncertain about the specific protocols for addressing repeated behaviors, explaining that it is unlikely that a student's misbehavior will be noticed multiple times by the same teacher, and thus the ladder allows these issues to remain unresolved. 
"Right now, I don't blame most of my colleagues if they just didn't do anything, because you don't really know what you're supposed to do, allowed to do, other than write these anecdotals."
On the other hand, history teacher Frank McCaughey, who has used the Ladder of Referral throughout his entire teaching career, said, "I have found it to be effective because it helps to build the most important part of any classroom: student/teacher relationship. Checking in with a student one-on-one prior to 'moving it up the ladder' helps us to find out the root cause of the behavior and address it before moving towards other solutions."
Several student leaders have also regarded the change positively. Junior Class President Sharon Li said, "I think it's a good way to solve the root of the problem, look at it from a different perspective, rather than just giving a demerit right away. A person could have just pulled their phone out to look at the time, and without these conversations, the person would've just gotten a demerit right away."
"We can't give demerits willy-nilly, and we can't give demerits without children having been notified as to what the problem is, given an opportunity to change their behavior, and having the ability to share their side of the story and that wasn't happening consistently here," added Principal Condon. 
"I think that to an extent, the demerit system after a certain point becomes ineffective, so it's interesting to see how the faculty have responded to this change and their approach to the demerit system," said Freshman-Sophomore Class President Hanna Kurdziel.
So far, only members of the school faculty have been officially notified of these changes. The administration plans to send out a second memorandum to parents and students soon.
Leave a Comment
Your donation will support the student journalists of The Classic. Your contribution will allow us to purchase equipment, support our extracurricular events, celebrate our staff, print the paper periodically, and cover our annual website hosting costs.