By Moriah Ramcharran, Niharika Ojha, Ioanna Giannopoulou, Staff Writers
Throughout the holidays from the end of November and to the beginning of January, New York City is a place like no other. As we have seen COVID-19's impact on our daily life, we must now experience its impact on our quintessential holiday season. However, taking advantage of the available virtual and in-person festivities will help make the unforgettable 2020 winter season just a little more unforgettable.
Across the five boroughs, Long Island, and the internet, COVID-19 safe events have been taking place. Here are ten places you can check out:
LuminoCity Festival at Randall's Island
LuminoCity Festival at Randall's Island Park is showcasing captivating stories in multidimensional experiences from now until January 10. They seek to blur the lines between reality and fantasy through their 16-acre park filled with LED light and art sculptures. Last year, they attracted two million people from across the world! However, due to the pandemic, they are prioritizing the health and safety of visitors through a multitude of safety precautions: there are strict time-slots, tickets must be purchased in advance, masks must be worn at all times, temperatures will be checked, social distancing and constant hand sanitizing are mandated, and daily cleaning will also take place.
Manhattan
Hudson Yards, Brookfield Place and the Vessel
Hudson Yards, Brookfield Place and the Vessel are also decked out in holiday lights. 
It is illuminated with over two million lights you can admire while partaking in contactless shopping and tasting sensational flavors. Don't forget that Santa is hosting virtual meets as well!
Winter Village at Bryant Park
The Winter Village at Bryant Park is another great open-air activity in Manhattan. They provide numerous holiday events and sights until January 3. The vendors in the holiday shops allow the visitors to escape from the urban setting of NYC into a winter wonderland. They sell items from holiday flavors to decorations, jewelry, and apparel. Heated ice igloos are also available for dining, staying warm, and enjoying the ultimate winter village in socially distanced domes. Ice skating at the iconic skating rink with COVID-19 rules and regulations is also available. There are strict ticketing times and routine cleaning and clearing are done. You must keep your mask on and sanitize frequently.
Rockefeller Center
Rockefeller Center, the city within the city, is known for its towering 75foot tree that was lit on December 2. Normally, the lighting produced by the 50,000 lights on the tree would be a grand celebration where songs are performed, speeches are given, and memories are made. It's possibly one of the most memorable moments throughout the year for locals and tourists alike. Approximately 125 million people visit the center annually. However, due to the pandemic, there will be a coordinating protocol. 
The MET
The Metropolitan Museum of Art began to update its exhibits living up to its annual holiday traditions. The museum hasn't officially begun its Christmas season since the tree is located in the Greek and Roman Art section instead of the Great Hall. The tree itself depicts a nativity scene (Jesus' birth), which is popular in Latin countries that celebrate Three Kings Day. There are angels hung up in the tree rather than ornaments; this respects the concept of using a crèche, or a model showing the scene of Jesus Christ's birth. This art piece serves as a great opportunity to learn about northern European tradition and is available to all general admission ticket holders. The museum follows a "pay what you wish" protocol but you are advised to pay the typically required $17. You can either reserve online or buy the tickets in the museum. Make sure to check it out before the exhibition closes on Sunday, January 3, 2021.
Brooklyn
Dyker Heights
In Brooklyn, Dyker Heights Christmas Lights often take the city by surprise. From now through the holiday season, the residences between 7th and 14th Avenue will be illuminated with colorful programmed lights, blow-up decorations, and much more. Locals tend to hire decorators to make their presentations as extravagant as they can be. Beginning in 1986, the Dyker Heights Christmas Lights have become an attraction locals never fail to miss. Due to COVID-19, some homeowners claim that they will limit their decorating because they'd rather not have people crowded on their property with the current circumstances. However, since the attraction is among houses, cruising through the streets in a car is the safest way to admire the lights while maintaining social distance.
Park Slope
In Park Slope, "Brooklyn's Largest Menorah" kicked off with .socially distanced concerts, celebrations with live music, serve hot latkes, and presents for children. 
Long Island
During the holiday season, Jones Beach State Park showcases the "Magic of Lights," a drive-through light display presented by NYCB. You are able to stay in the safety and comfort of your own vehicle as you enjoy the view of the experience featuring relevant holiday characters and scenes of the season. Long Island's favorite holiday tradition is open until January 2, 2021. 
100% Virtual
Saks' Fifth Ave Light Show
Saks' legendary window display and light show are unlike any other in the city. This year would be nothing less than that. Multiple live streams of the five minute flashing of colors are available online. 
Grand Central Virtual Holiday Fair
The quintessential Grand Central Holiday fair, where visitors are able to purchase one-of-a-kind gifts from numerous vendors has taken the digital path this season. Visit the Grand Central Terminal website to take advantage of the exclusive selection of goods and services.
It is obvious that the pandemic has been severely affecting our daily lives, some in different ways than others. Townsend Harris students, like junior Dylan Buddhu, are accommodating to the holiday season, which , "will be much more quiet and intimate due to the COVID-19 regulations," with celebration kept among immediate family. Others, like freshman Simran Deonarine, are  reflecting on the carelessness of the past holiday seasons like being in sardine tin gatherings in a crowded winter wonderland. "COVID-19 has changed our mindsets this season because we are accustomed to being gathered together," Simran said. "However this year it's much more isolated and separated."  Similarly, sophomore Chayti Biswas realized you are never able to appreciate what you have until it's gone. "We have started to lose hope from what I'm feeling, so many families lost family members," Chayti commented. "It's just not going to be the same anymore. Like something is missing. The atmosphere has changed along with it." 
COVID-19 has had a negative impact on our lives this year, however, we are still making the most of it—even if it's just through ta few holiday lights to brighten up the season.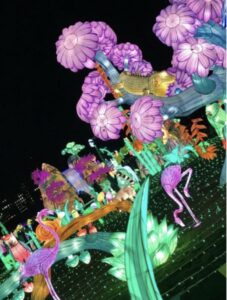 LuminoCity Festival at Randall's Island Park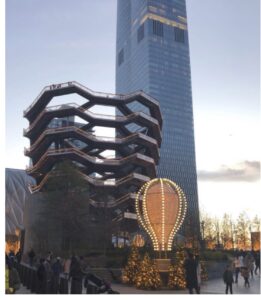 Hudson Yards + Vessel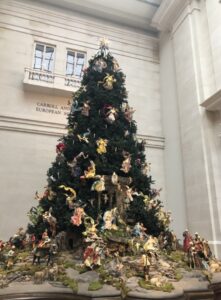 The Metropolitan Museum of Art
Rockefeller Tree 
Photos by of Moriah Ramcharran, Niharika Ojha, and Ioanna Giannopoulou