Upperclassmen weigh in on daily zero band classes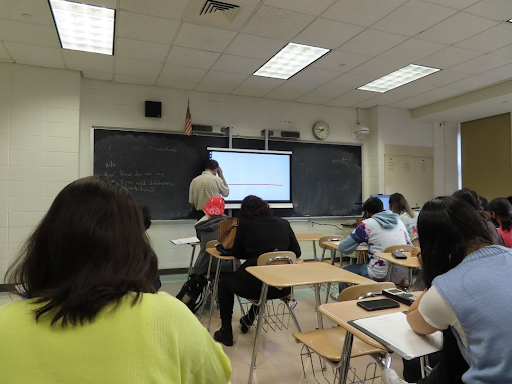 By Quinnlan Burke, Maria Mattei, Jackie Chen, Sandra Sandoval, Tenzin Chemi, Leonardo Finzi, Loveleen Kaur, Sara Lukacevic, Staff Writers
In response to the increased school population, many  upperclassmen now attend zero band classes five days a week for their core and elective classes, a shift that was met with a mixed reception. 
In previous years, zero band classes typically met up to two times a week for classes such as science labs. However, this year, classes such as AP English Literature, AP English Language, AP Statistics, as well as some selectives and physical education classes, now meet five days a week from 7:15 to 7:57 am. 
The larger freshmen class, which contains 375 students, a significant increase from just 281 students in the class of 2021, resulted in tough choices for the Townsend Harris administration.
Assistant Principal of Guidance Veronica York said, "We could [either] cut electives so we could have more rooms and more space, or spread out the day as much as we possibly could." On the decision of choosing the zero band option to handle the influx of students, Ms. York said that with "programming the school, there's so many different variables in play to make it work— with almost 1400 [students], it's a crazy logic problem."
While there were mixed reactions toward everyday zero band classes, students consistently expressed that they were not informed of the change until they received their programs in September. Senior Lily Li said, "I did not know I would be having a zero band every day for a core class until I saw my schedule… the school doesn't open until 7 am, so we have to wait outside [until then]."
Many upperclassmen have raised concerns about scheduling conflicts due to the earlier classes. Junior Vinesh Holiprosad said, "I asked for AP Psych, Anatomy, or AP [Environmental Science], but didn't get any of those choices… On top of that, I have zero band AP Lit, leaving me with far too many frees." 
Students were split on whether they preferred their zero band classes be changed, but most felt they weren't given sufficient scheduling options, even after requesting program changes. When asked why he didn't transfer out of zero band AP Literature, Junior JC Mateo said, "I went to guidance and essentially they said they couldn't do anything."
Although shorter than regular bands, the addition of zero bands to a number of upperclassmen schedules presents a notably earlier start to their day than that of their peers. Many students, especially those with longer commutes to school, expressed the additional toll on their well-being zero band classes brought.Senior Michela Volpe said, "It is very difficult to keep up with having a class so early in the morning, and most of the time it's hard to focus." Junior Lucas Havens said, "As far as mental health, I'm very tired pretty much all the time, so that's not cool."
On whether daily zero bands will become the norm at Townsend Harris, Ms. York said, "It would be nice if we didn't need it permanently." 
Photo by Sophia Park, Art Editor
Leave a Comment
Your donation will support the student journalists of The Classic. Your contribution will allow us to purchase equipment, support our extracurricular events, celebrate our staff, print the paper periodically, and cover our annual website hosting costs.