Spotlight: Junior Joshua Lau speaks about the mission and co-founding of Secondhand Literature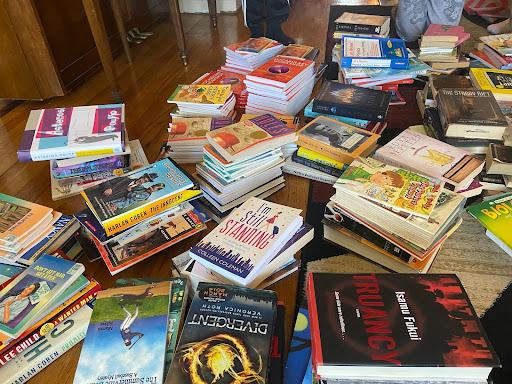 As high school students progress through their academic careers and gain exposure to societal issues, many are inspired to facilitate positive change toward these issues through student-led initiatives. One such student-led organization that has recently gained traction around Townsend Harris High School is Secondhand Literature, co-founded by junior Joshua Lau of THHS and junior Taee Chi of Stuyvesant High School.
Secondhand Literature began operations in the summer of 2021, aiming to combat the deepened inequities in literacy rates caused by the COVID-19 pandemic among students from all backgrounds in Queens metropolitan neighborhoods. The organization strives to achieve this by collecting unused books from households throughout various communities and redistributing them to schools, daycares, churches, homeless shelters, and other organizations in need. "In just a week of setting up our donation boxes across communities in Queens, we were able to redistribute a total of 245 books to places in need," Joshua said.
In recounting the origins of Secondhand Literature, Joshua said, "I had so many books lying around my house, ones that I no longer used. I thought, 'Someone else could put these resources to use,' and it turns out I was right. After brainstorming with [Taee], we were able to direct our passions, resources, and efforts [toward this organization]."
Secondhand Literature recognized that younger generations have become less acclimated to literary material due to the rise of digital forms of media such as videos, movies, and TV shows. As a result, the organization hopes to host remote group book readings and guided discussions online. "We hope to start a virtual learning program where youth will be able to discover or reconnect with their love for books," Joshua said.
Along with Joshua and Taee, Secondhand Literature is run by a team of various NYC high school students. THHS junior Rishima Pokharel and Stuyvesant junior Christina Shen are the organization's Social Media Directors, THHS junior Darian Jimenez is the Volunteer Coordinator, Stuyvesant junior Shafiul Haque is the Outreach Coordinator, Stuyvesant junior Ava Rem is the Virtual Learning Program Director, and Francis Lewis High School sophomore Claire Grumbacher is the Events Coordinator.
Joshua described his passion for being a part of the Secondhand Literature team. "I love and have always loved to read. Ever since I was young, I've made countless trips to the library and would often spend my days in the summer searching for new books to enjoy," he said. "As I got older, I had less leisure time, which, in turn, meant less time for reading, especially with my ever growing list of responsibilities as a high school student. The extra time provided by quarantine allowed for this love of reading to be reignited, and I felt the need to share my passion for reading with others."
For those looking to contribute to the mission of Secondhand Literature, Joshua said, "The biggest way that Townsend Harris students can support our nonprofit is by donating their unused books and spreading awareness. If everyone made small donations, even if it were just one or two books, it would add up eventually. Not only can students get rid of unused books, but they can do something meaningful, as they put these books into a new pair of hands. Telling a friend or family member [about us] can go a long way for our cause." To streamline the process for Harrisites, a book donation drop-off box was set up in the THHS Library.
Joshua remains optimistic about the future of Secondhand Literature, saying, "Although we have only done a few donations as of now, we are working hard to collect and redistribute more. Currently, we are based solely in Queens, but this is something we hope to change soon. Secondhand hopes to become borough wide, so that more hands can receive much needed books. Recently, we added a new member to our team who will be in charge of [the virtual learning program] of Secondhand, and we hope to get this rolling as soon as possible."
Joshua encourages THHS students to volunteer with Secondhand Literature and help disinfect, catalog, and deliver books to locations around Queens. "As Townsend Harris students, we recognize the importance of reading and the strength in words, and this goes a long way. When students get involved with helping others, they are able to gain a sense of community and satisfaction that comes with selfless acts," Joshua said.
Photo courtesy of Joshua Lau
Leave a Comment
Your donation will support the student journalists of The Classic. Your contribution will allow us to purchase equipment, support our extracurricular events, celebrate our staff, print the paper periodically, and cover our annual website hosting costs.