Queens college honors African American civil rights leader Wilson Rantus in naming ceremony for billion-year-old boulder found near Townsend Harris

On Thursday, October 27, Queens College held a ceremony where they dedicated a billion-year-old, thirteen-ton boulder excavated during the construction of the Science Building to civil rights leader Wilson Rantus (1807-1861). Along with being a civil rights leader, Rantus was a passionate educator and businessman whose farm was located near the Science Building and Townsend Harris itself: the area between Melbourne Avenue, 149th Street and Gravett Road. 
"This is an extraordinary moment for the college and the wider Flushing community, with whom we've worked to highlight and preserve Rantus's legacy," said Queens College President Frank Wu, according to a press release from QC. "Because of his contributions to Queens and his family's connections to this neighborhood, we are commemorating Rantus with a place on campus close to his family's property."
Speaking to The Classic, Jeffrey Rosenstock, Assistant Vice President for Governmental Relations & External Affairs at Queens College, credited the college's Community Advisory Board with the idea for recognizing Rantus's legacy through this commemoration.
"Wilson Rantus is an unsung hero," Mr. Rosenstock said, calling him "a person on whose shoulders many students of color have stood given his interest in education and voting rights for all."
Rantus organized a civil rights convention in Jamaica in 1841 and pushed for voting rights. He helped fund the launch of The Anglo-African, a periodical published by abolitionists Thomas Hamilton and Robert Hamilton.  
The boulder is believed to be a piece of bedrock from Hudson Highland that was picked up by glacial ice and moved to the area that would later become Rantus's farm and the QC campus. It was more than 10,000 years before the rock was discovered. Many Townsend Harris students take classes at the Science Building, and they can see the Rantus Rock and information about both Wilson Rantus and the rock itself on display beside the main entrance to the building. 
Photo Courtesy of Queens College
Leave a Comment
Your donation will support the student journalists of The Classic. Your contribution will allow us to purchase equipment, support our extracurricular events, celebrate our staff, print the paper periodically, and cover our annual website hosting costs.
About the Contributor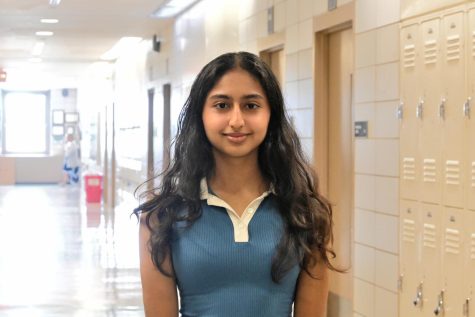 Riya Chaudhry, News Copy Editor
Riya is a junior at Townsend Harris High School. She likes to read, travel, and go to the beach. She also likes to hang out with her friends. She danced...