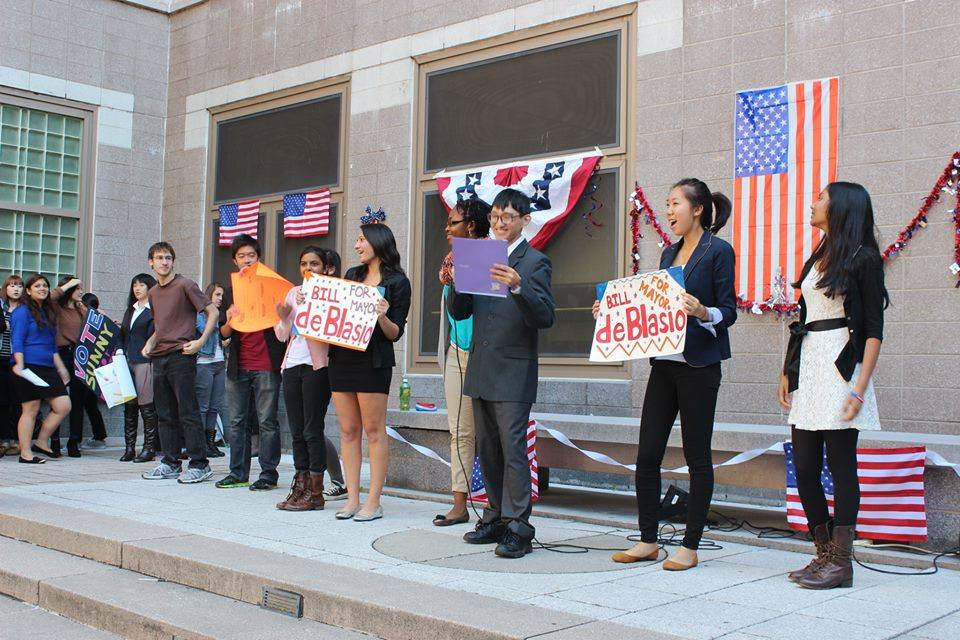 From mid-September until the beginning of November, the class of 2014 was hard at work on THHS's yearly Election Simulation. The results for many of the positions were close, with three victories each for both Republicans and Democrats.
For the mayoral position, Bill de Blasio won over Joe Lhota by 5%. Scott Stringer was elected NYC Comptroller, Letitia James as Public Advocate, Tony Arcabascio as Queens Borough President, Sunny Hahn for City Council District 20, and Craig Caruana for City Council District 30.
Although the results turned out to be for the most part what was expected, Scott Stringer's victory was a surprise for many. The results were close, however, with Stringer winning by just four percent.
Senior Navindra Sawh, a member of Stringer's campaign, attributed this victory to their increased effort to draw the attention of voters after polls showed John Burnett to be a more popular candidate.
"According to polls, it would have been a landslide victory for our opponent (John Burnett)," said Navindra. "So we spent the second half of the six week campaign planning on getting more support. It was mostly just making sure our candidate got his name and beliefs out there, showing that our candidate would be a better choice, and trusting the students to be responsible voters."
Senior Jin Won Seo, who played Bill de Blasio, thought the results were interesting, but notes the lack of voter participation.
"It turned out that not many people actually voted, compared to how much advertising went around encouraging people to vote," he said.
He felt that this factor contributed to his victory, as he believed his opponent Joe Lhota did an excellent job.
Social studies teacher Jaime Baranoff thought the results were mixed. She believed some candidates won because of gimmicks and a popularity vote, while others truly deserved to win based on their efforts.
Senior Talwinder Singh, who helped run media coverage for the Simulation, also felt that the results were determined by how the candidates portrayed themselves.
"The media did what they were asked and did not favor one party," he said. "The Republican Party came together and did things to get their word out, which was something that the Democratic Party did not do. If the Democrats would've came together and used the media properly, they could've done better."
This year's simulation was quite different from that of previous years. As usual, it consisted of a diverse group of students representing the candidates actually running for office. Some changes were made, however, regarding some of the protocol involved in the simulation. Classroom visits previously had to be "paid for" using Simbucks. This year, classroom visits by the candidates were free.
Social studies teacher Linda Steinmann said, "We wanted the candidates to make more personal appearances. We thought that emulated real life as well."
The Hawk Talk survey also found classroom visits to be the most effective campaign tool.
"[The classroom visits] gave one on one time with the candidates," commented sophomore Hannah Yoo. "You were able to learn most from those visits."
 Juniors, who have already seen two previous simulations, also noticed the increased number of visits. Looking past flashy bake sales, they instead looked for signs of the candidates' preparedness.
Junior Ann Kochupurackal said, "I voted for the people who came to visit me in my classroom. Those are the people that I remember. I'm not going to remember some bake sale that took place by a candidate if I don't have any background info from them."
However, there was a down side to the increased number of visits. More student-candidate interaction put more pressure on the candidates to know their information.
Sophomore Noah Silversmith said, "I felt that that compared to last year, a lot of the candidates didn't know too much about the person they were representing…half the questions my class asked them they didn't know the answers to."
The candidates themselves felt the stress from being put on the spot. Senior Tawhid Meah, who portrayed Tony Arcabascio, said "When doing classroom visits I was extremely scared. In my first few classroom visits my voice was shaky, I would pace back and forth and my voice would be low."
Another change was the new Election Simulation website that organized the candidates and their views for students.
Social Studies teacher Alex Wood created this year's Election Simulation website as a place for students to coordinate their various jobs and responsibilities.
Mr. Wood himself verified that the website was mainly organization-oriented, with the purpose to "get everyone in the same place." In terms of any changes that could be made for next year, he mentioned that aesthetics could be focused on.
"It served it's purpose," he said, "I left it up to the students to make it fancy."
However, Dr. Steinmann feels that whether or not the website was useful has yet to be determined.
"It will be hard to judge its impact this year since the rollout did not happen immediately," she said. "Now that every student in THHS has a Google account it should make it much more effective next year."
This year the Simulation also drew the attention of the New York Times, and a short article was written about the Candidates' Debate. A representative from the Times contacted Principal Anthony Barbetta, and Assistant Principal of Humanities Rafal Olechowski set up the interviews. Fox 5 had planned to cover the simulation last year, but the story never got to be published due to Hurricane Sandy coverage.
"We were very pleased by the notice we got but since the reporter and photographer were here for a few hours we thought the article would be longer," commented Dr. Steinmann.
There were also controversies that occurred among candidates, the biggest being a  lawsuit the Democrats and Republicans filed against each other.
"The Democrats were upset about the Republicans coming onstage during the Special Interest Group rally," said Dr. Steinmann. "They printed flyers accusing the Republicans of fraud."
However, Mr. Olechowski and Dr. Steinmann had informed the Democrats that they couldn't distribute flyers without a faculty signature and that they had to go to the Federal Election Commission (FEC) or the Leadership class. Although the Republicans were fined fifty simbucks, they countersued, saying the Democrats committed libel by accusing them of fraud. The FEC subsequently fined the Democrats fifty simbucks.
Regarding the incident, Dr. Steinmann concluded, "Essentially, it was a draw."
 Despite this, the Class of 2014 took the Simulation as a fun learning experience and were impressed with their own accomplishments.
"There was a sense of excitement and being involved that volunteering and running our simulated campaign gave me," said Navindra.
Tawhid gave advice to the Class of 2015, saying, "Don't do it for the sole purpose of getting a good grade because then you lose sight of what the Simulation is about."
Social Studies teacher Franco Scardino concluded, "I think the results reflect the work that the candidates and Special Interest Groups put into the simulation. The Class of 2014 did a very good job of informing the students about the issues and the position of the candidates, and it was covered very well by the media classes."