Boys wrestling hopes to pin down some wins

After not making the playoffs in the disappointing 2012-2013 campaign, the boys wrestling team hopes to make some improvements and become number one in the Queens South division.
Last year, the wrestling team had an overall 5-5 record putting them in fifth place in their division. In their smaller division the Hawks were 5-3, but this was not sufficient enough to get them into the postseason.
Coach Raymond Adamkiewicz felt that last season was "pretty successful but had some disadvantages in some weight classes, which ultimately led to many close loses."  A prime example of this was in their loss to Canarsie Educational Campus 48-42.  In response to these close losses, Senior Vasili Spanopoulos said that even though the score was close, it still felt just as disheartening and discouraging.  Vasili believes that all the team needs to do is to "keep believing," also mentioning how "wrestling is a sport where you have to keep pushing through [the thick and the thin]."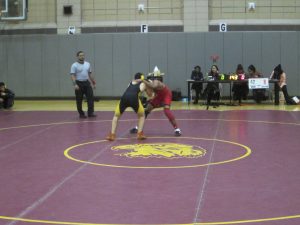 This "pushing through" attitude was shown at the end of last season when the boys won their last three matches.  Vasili saw that the team picked it up at the end and that if the team shows this same intensity, they will be able to succeed.
Many of the rookies have shown their desire to succeed with their hard work at practice and qick This intensity level has been shown a lot through the quick progress of many rookies and the pace of practices.  With this year being his second year on the team, Vasili sees much more improvement in himself and in the team.  "Around this time last year the team was going over wrestling stances, while this year they are already on offensive and defensive techniques, very quick progress in comparison to last year" he noted.
But junior Ali Chebli believes that in order to improve, the level of intensity should be a lot higher.  "During one practice, the level of intensity was really low and this killed our drills, but after running the stairs a bit this level rose and practice was a lot quicker in pace."
Sophomore Muhammad Safdar also believes in a higher intensity level and that if the team continues to work as hard they have been, they will improve a lot.  He included that "Wrestling is all about hard work and determination and because of this, many rookies quit.  When I got home from practice last season I was as tired as ever, but this hard work paid off and I made it to City Champs."
Coach Adamkiewicz believes that dedication is one thing that the team should improve on as well.  He said that there are "ample amount of opportunities to enhance everyone's skill level."  Whether it's Beat the Streets, a non-profit wrestling program, camps, or any other outside events, Coach Adamkiewicz believes that every kid will be able to improve with the extra work.
Muhammad also believes that a lot of communication between the team should be improved and when it does, the team will do great.  "When a team communicates and critiques each other, so much improvement is done."  Ali agrees and notes that in practice everybody is partnered up different teammates.  He said, "when this happens, everyone works to get better despite being in different weight classes and skill levels."
At the end of the season Coach Adamkiewicz believes that the team should finish among the top two in their division.  He also wants at least half of the team to qualify for city champs and at least two to three place winners in these championships.  The bar for this season is so high that Muhammad believes that this year, the team can make it all the way and win the city championship.
Leave a Comment
Your donation will support the student journalists of The Classic. Your contribution will allow us to purchase equipment, support our extracurricular events, celebrate our staff, print the paper periodically, and cover our annual website hosting costs.