Los Chilitos serves up muy buenos tacos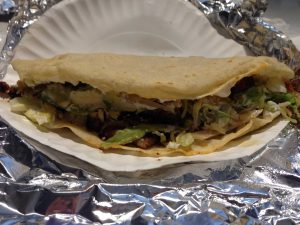 The search for cheap, authentic, filling eats can be a struggle. However, Los Chilitos provides filling gourmet Mexican food for a low budget, and who could say no to that?
Los Chilitos is a Mexican food cart located on 71st Avenue in Forest Hills, usually near Citi Bank. It is famous for its delicious variety of quickly made, yet fresh, traditional Mexican foods.
When I visited the cart, I ordered one taco and one burrito. I ordered my taco with chorizo, a Spanish-style smoked paprika pork sausage. Although it looked petite, about the size of my hand, it was stuffed to the max and makes a perfect snack. The taco was wrapped with a soft tortilla shell that was like no other. It was as thick and aromatic as it was toasted and salted. This shell definitely surpasses the others I've tried before, which were commonly flimsy and doughy. Inside the taco were chunks of the chorizo, cilantro, a smear of guacamole, and diced white onions. The chorizo was excellent. It was smoky, moist, mildly spicy, and the blend of seasonings made it mouthwatering. The cilantro, guacamole, and white onions made each bite refreshing. The juicy raw white onions in particular added crunchiness and sweetness. On the side of the taco, you also get two slices of uncooked radish and a lemon wedge. I highly recommend squeezing the lemon over the top of the taco. The zestiness of the lemon juice adds a kick and brings out all the interesting flavors incorporated in the taco.
I then tried an enchilada burrito, which was made with spicy pork. The burrito was double the size of the taco, and enough to be a meal for one. Once again, the outer shell used the same warm, delicious, soft tortilla. Inside, along with the spicy pork, there were shredded lettuce and melted queso fresco (fresh cheese). The pork was savory and prepared with cumin. At first, when I bit into it, I didn't taste the spiciness, but the heat increased gradually. The shredded lettuce made the burrito less dry. Meanwhile, the melted queso fresco brought a creamy, milky flavor similar to that of sour cream. It is best to keep in mind that you should eat this burrito while it is still warm, otherwise the cheese will become cold, and you won't get the full effect. This mix of ingredients work well together to create a satisfying burrito that is just as filling and delicious as Chipotle's, but cheaper.
Leave a Comment
Your donation will support the student journalists of The Classic. Your contribution will allow us to purchase equipment, support our extracurricular events, celebrate our staff, print the paper periodically, and cover our annual website hosting costs.