Participatory Democracy students win at C-SPAN

Two teams in Mr. Wood's Participatory Democracy class received honorable mention awards and $250 for their success in C-SPAN's 2015 Student Documentary Competition.
On June 12, representatives from the Cable-Satellite Public Affairs Network (C-SPAN) came to Townsend to present the awards to these teams and showcase their interactive displays. This is the second year that THHS students have participated in the competition and the second time that two teams have placed.
Student Cam, an annual and national competition created by C-SPAN, "encourages students to think critically about issues that affect our communities and our nation" through the creation of documentaries.
The 2015 documentary required students to tell a story "that demonstrates how a policy, law, or action by either the executive, legislative, or judicial branch has affected [them] or [their] community." Overall, C-SPAN received 2,280 documentaries, with submissions from 45 states as well as Taiwan. Prizes were awarded only to 150 videos, two of which were created by Harrisites.
Students Alan Lee, Kari Iocolano, and Nadia Ali won the award for their documentary entitled "Nation of Immigrants." The idea for the project came from the fact that the group members and many of the students in the THHS community are the children of immigrants. "[We] ended up making a documentary on the struggle to come to this country legally because of long waiting times and possible solutions to that problem," Alan said.
The other team consisted of students Elijah Betts and Elizabeth Tum, who received an award for their documentary entitled "TransValue Obamacare." "Since the prompt was about how a law or ruling has affecting us or our community, I really wanted to focus on a community that I was a part of," Elijah said. "Once [we figured that out, we] decided to explore how Obamacare affects transgender people." Elizabeth explained that she and Eli chose the topic because "LGBT rights have really progressed over the years, but not a lot of people focus on transgender rights."  She further elaborated, saying, "When a law is passed, we don't always get to see the positive and negative effects firsthand," emphasizing the necessity of awareness.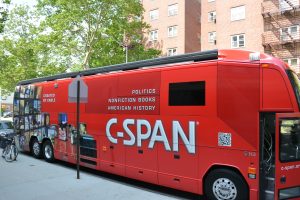 According to Alan, the ceremony was an "honor" for the participants and for Mr. Wood, who was pleased with this year's outcome.  Mr. Wood commented, "To be able to address an important topic in an engaging way is in no way easy. However, it wasn't a challenge for Townsend Harris students."
Leave a Comment
Your donation will support the student journalists of The Classic. Your contribution will allow us to purchase equipment, support our extracurricular events, celebrate our staff, print the paper periodically, and cover our annual website hosting costs.