Harrislam: National Victor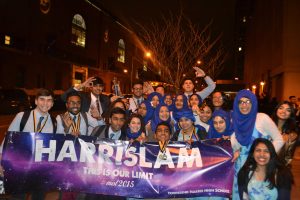 Harrislam dominated the Muslim Inter Scholastic Tournament (MIST), which focused on the theme "Clarity of Sincerity: From Outer Perceptions to Inner Reflections."
The team partnered with Stuyvesant to win first place at Nationals in Houston from August 7-9, 2015, as well as first place in their community service project and third place for social media. New York also won Best Chant Spirit Award.
MIST is a competition occurring on both the regional (New York City) and national level that encourages participation from members of all faiths. The tournament consists of six central categories that branch into over thirty competitions, ranging from things like debate and poetry to art and basketball.
Senior Malik Khan highlights accomplishments at the event: "We got third place in Brother's Improv, where a group of competitors improvise a given prompt, and third in Social Media, where we had to design and introduce the most user friendly representation of our school's MSA. Eight people from Townsend made it there, and a total of thirty competitors came from New York to represent the state, and we took second overall."
Assistant Principal Ellen Fee, MSA adviser and MIST coach, emphasized the effort it took the Harrislam team to compete. She explains, "There were many months of preparation and practice, and although some adjustments were required last minute, all that hard work paid off."
Competitors take away more than just their honors from the tournament. Junior Misbah Pochi stated, "You get together with people from all over the city and come together under one religion and community. It is a way for people who are interested in Islam to come and learn about it."
Freshman Asiya Koli recalls her experiences viewing MIST as a guest: "Every school showed so much team spirit, from the team colors face-painted on their cheeks to yelling and screaming their team cheers…every single competitor was so passionate about their competitions."
Senior Tahina Ahmed, who participated in the MIST Bowl and the Community Service competitions on a national level and won first place in both,  remarked, "Community service is a competition where you find an issue in your community and come up with a solution; in the end, you're writing a research paper. For MIST Bowl, the thrill of buzzing in when you know the answer to a question asked is exhilarating."
In the words of Ms. Fee, "The friendships that began there and were forged in cooperative activities will last a long time; it's an experience that one doesn't easily forget."
Leave a Comment
Your donation will support the student journalists of The Classic. Your contribution will allow us to purchase equipment, support our extracurricular events, celebrate our staff, print the paper periodically, and cover our annual website hosting costs.