As eSchoolData Becomes the Norm, the Community Reacts

After Daedalus shut down for good, eSchoolData made its entrance into the lives of Townsend Harris students, faculty, and parents. Members of the community shared their thoughts about the new system, with opinions varied on its qualities.
Assistant Principal of Math, Science, and Technology Susan Brustein said, "I think there has been some resistance to eSchoolData both amongst the faculty and the students. It's always hard to adapt to something unfamiliar and not being able to find things in the places that you want it."
Daedalus, in its time of use, served as a one stop shop for all things THHS.
Designed by Mrs. Brustein's former colleague, Steve Kramer, the site met the needs of students and faculty by letting students view grades, track demerits, and have access to school voting polls.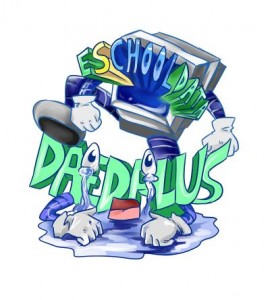 The more positive responses to eSchoolData described the website's overall design as compared to Daedalus.
Sophomore Lydia Jang stated, "The website has a nice design but it is hard to use and there are still kinks that need to be fixed."
"It's a lot more extensive than Daedalus," stated sophomore Fardhen Hossain, who did not think that was automatically a good thing.
Most students preferred the organization of Daedalus to that of eSchoolData.
More specifically, many noticed that eSchoolData does not display their overall average, a feature they highly valued on Daedalus.
In addition, eSchoolData brought about a few new changes that seem to make life a little easier when it comes to tedious bookkeeping.
"It's simpler in some ways," said Mrs. Brustein of the gradebook's manner of setting up courses, "because its got a template where you can, for all like classes, import an exam, a quiz, [or] an activity once and it populates all your classes."
Another key feature that might be more noticeable to students is the idea of an online attendance taker, which replaced Delaney cards and bubble-in attendance sheets.
Mrs. Brustein remarked, "I think that at this point most people are pretty happy with the online attendance piece."
"Having pictures alongside student's names really helped match names to faces more quickly," said science teacher Shi Bing Shen.
The attendance tracker on eSchoolData also has a feature that records a time that a late student has walked in.
The difficulties extend not only to students, but also to teachers in the eSchoolData recording system.
"Personally, I thought Daedalus was very easy," said Dean Robin Figelman.
"[It] used to have notifications to me right on the page when demerits came in. Now, I have to go look through my email to find that teachers submitted demerits and then I have to open up eSchoolData to submit the demerits."
However, both students and teachers believe the new system is not impossible to use and they will eventually adjust.
Ms. Figelman added, "I thought I had much more of a grasp on [Daedalus]. But I guess, in time, I'll learn how to do this as well."
Ultimately, eSchoolData aims to accommodate and adjust according to the needs of students.
Mrs. Brustein said, "[Although] there is less functionality at the moment in certain areas [of eSchool Data] than we've had before, that is getting better bit by bit."
Leave a Comment
Your donation will support the student journalists of The Classic. Your contribution will allow us to purchase equipment, support our extracurricular events, celebrate our staff, print the paper periodically, and cover our annual website hosting costs.