Pippin to take the stage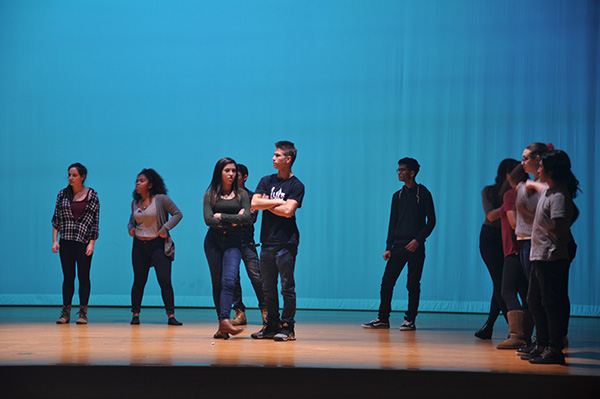 It is once again time for Townsend Harris to begin preparing for one of the few productions that are put on during the school year—the school play. This year on April 8, students will be performing Pippin, the musical. 
Pippin is a play about a travelling group of players and a young man named Pippin, played by sophomore Noah Sadik, who is supposed to be Charlemagne's son. The play follows him around as he attempts to discover his place in the world and how he can fulfill his life's purpose. According to director Joseph Canzoneri, "[Pippin] comes to discover that meaning and happiness is found in relationships with one another."
One very important part of casting is finding a student that can sing. Mr. Canzoneri states, "You can kind of get away with an okay actor, but for characters who need to sing a solo, that's all about how well people will sing." Students go to a first vocal audition where they can sing any piece that they want.
Particular students then return in order to sing a piece from the play to see if they are capable of performing it.
The next step of this process is matching someone to a part and then seeing if the actors match in relation to one another.
Mr. Canzoneri explains, "Once you decide, for example, that Noah is the right person for that role, now you have to see how the other people fit in relation to him. Will the Charlemagne person be believable as his father? Will the love interest, who's supposed to be older than him, be believable as someone older than him? So those things come into play."
While doing this, the directors make sure to be diverse, especially when it comes to one's race. Mr. Canzoneri continued, "You know in this school, the population is heavily Asian. You can't have a cast with 25 Asians, so we want some people who are light skinned, we want people whose skins have medium tones, some people who are African American. We try to assemble as diverse a cast as possible."
Usually when it comes to casting and auditions, the directors have a good idea of who will be a part of the production because they know who the theater students are.
This year, however, Mr. Canzoneri admitted, "There were many more surprises, but I think that's a good thing." One such surprise was junior Maria Silaban, who the directors believe is well-cast as Pippin's older love interest.
The cast and crew seem to be very optimistic in this year's play outcome. Noah commented, "I expect this year's play to be nothing but absolutely magical."
Leave a Comment
Your donation will support the student journalists of The Classic. Your contribution will allow us to purchase equipment, support our extracurricular events, celebrate our staff, print the paper periodically, and cover our annual website hosting costs.