10Below

Written by Kathy Ling and Valerie Mui
Having ice cream isn't the first thing that comes to mind when the temperature is under 40°F. However, with the grand opening of 10Below Ice Cream in Flushing on February 12, it seems that getting ice cream is the number one priority for most people. Due to its popularity, 10Below opened a second store in Queens Crossing Mall. 10Below is the perfect place to go for a non-traditional ice cream experience of "ice cream rolls," which are mixed with various flavors depending on the day, and all the toppings of your preference. In addition, these ice cream rolls are made right in front of you. The new opening in Flushing has people from numerous schools crowding around, especially on opening day. Whether it be a windy, winter day or sunny, summer day, this parlor is the place to go if you want a change in your average ice cream.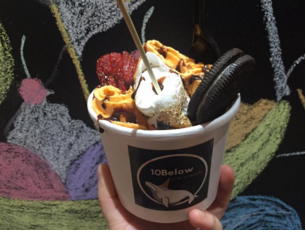 After the grand opening, photos and videos of this aesthetically appealing dessert can be seen clogging up the Instagram feeds of students everywhere. The intricate process involved in creating this dessert is what makes it a treat. They first chop up the main ingredient on the cooling plate, which reaches temperatures of -10˚F, hence the parlor's name. The creme is then poured onto the plate, and the two ingredients are mixed together with two blades. The employee then carefully scrapes the ice cream into rolls and places them into a cup. The customer then chooses which toppings he desires, which includes fresh fruit, a variety of syrups, and lightly toasted marshmallows.  
10Below Ice Cream provides visitors with a combination of the taste of ice cream and the excitement of the unfamiliar form it comes in. This parlor provides eight choices to choose from for $7.00. One flavor that is highly recommended is the Thai-iced tea, also known as Ain't Got No Thai Fo' Dat. Reminiscent of the taste of bubble tea, this dessert provides an original, smooth texture unlike any ice cream found in a container. It has the right amount of sweetness that keeps you wanting more. The toppings that were chosen included strawberries, an oreo, a marshmallow, and chocolate syrup. The strawberries were slightly sour, which balanced the sweetness of the ice cream. In addition, the marshmallow was purposely burnt to make it crispy and pleasant to eat, like campfire s'mores. Hence, if you're looking for Thai-iced tea flavored ice cream, now is the time to go.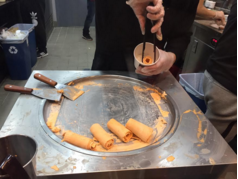 Although this ice cream parlor provides a unique type of ice cream, the atmosphere isn't outstanding. During after-school hours, this location is crowded with students, which creates a mess along the station and a long wait-time. On top of that, there is no seating area for people to enjoy the treat. Only a single table stands outside of the ordering station, where napkins, spoons, and melted ice cream can be found. Nonetheless, people are willing to look past these shortcomings because the Thai-style ice cream rolls overrules it. The newest craze among foodies is not to be missed.
Leave a Comment
Your donation will support the student journalists of The Classic. Your contribution will allow us to purchase equipment, support our extracurricular events, celebrate our staff, print the paper periodically, and cover our annual website hosting costs.