Freshmen-Sophomore President Max Kurant takes on leadership role amidst principal controversy

Many students have become prominent voices during the ongoing turmoil involving Interim Acting Principal Rosemarie Jahoda. Freshmen-Sophomore President Max Kurant is one of the students who has stood out in recent weeks. Max spoke at a rally in front of the mayor's office to protest for the immediate removal of Ms. Jahoda from THHS. Most recently, he co-organized a sit-in to protest the lack of transparency in the C-30 process on the day of the Level 1 Committee interviews.
At the student sit-in, which took place on March 15, Max said, "There's a problem with this [C-30] system. Even if they rank Ms. Jahoda fifth…Superintendent Lindsey has no obligation at all to not choose her…The reason we're here today is to put pressure on them [DOE] and they have to listen to us, they cannot ignore our voices. If they continue to ignore us, we're gonna keep fighting."
Max spoke of the secrecy of the C-30 process, stating, "Not only are we never going to find out those 33 candidates [that initially applied for the position] …but we're not even gonna find out those five candidates until they actually walk through this door."
He encouraged students to be the "judge" of who becomes the principal and ask candidates why they were there and why they deserved the job.
Previously, Max spoke about his concerns at a rally in front of the Mayor's office. He said, "Townsend Harris is a family made up of students, teachers, and alumni… and the principal is the head of this family." He explained that the "frustrated" THHS community noticed a loss of leadership when the school transitioned from having former Principal Anthony Barbetta to the current interim acting principal Ms. Jahoda.
Regarding the speech, Max said, "My speech was about the transition between 9th and 10th grades, my grade, and how different it was under the Barbetta administration and the Jahoda administration. I really wanted to be [at the rally] to highlight that."
Student Union president Alex Chen was impressed with Max's involvement. He stated, "I was very impressed when I first met Max because of his passion for working for what he believed in. Max isn't just a student; he is also an activist for social rights."
Alex continued to say, "Max has developed his ability to rally up the support for many students, which will be essential if he continues to take a role in student government, which I hope he will."
Coordinator of Student Activities Sarah Oberlander said she was proud of her decision to choose Max as the freshmen-sophomore president. She stated, "Max is a great leader because he does his best to represent the students. He truly cares about everyone's ideas and empowering the students' lives at THHS."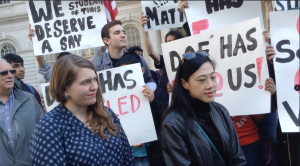 Leave a Comment
Your donation will support the student journalists of The Classic. Your contribution will allow us to purchase equipment, support our extracurricular events, celebrate our staff, print the paper periodically, and cover our annual website hosting costs.