Meet the new guidance counselors: Ms. Graf and Ms. Blakeley

With the departure of Ms. Meyer and Ms. Magnan, Townsend Harris welcomes two new guidance counselors to assist students in grades 9-12.
Jessica Graf will be the new guidance counselor, supporting students who previously had Ms. Magnan. With over four years of experience as a counselor in New York City, she loves building supportive and trusting relationships with students. After attending Queens College where she earned a bachelor's degree in English and Spanish Literature, Ms. Graf enrolled in a PhD in Spanish literature program at Stony Brook University, where she also served as an adjunct professor. During this time she enjoyed office hours where she helped students, and she realized she wanted a shift in her career. Ms. Graf then attended Brooklyn College, where she received her Masters in school counseling. Prior to coming to Townsend Harris, Ms. Graf had experience working as a counselor in a middle school and with a community organization at a high school. In the coming weeks Ms. Graf will be meeting with seniors to get to know them better. With these meetings, and using the previously completed junior questionnaire, Ms. Graf is confident she will be able to write strong letters of recommendation. One aspect Ms. Graf hopes to focus on is creating opportunities for students that don't just benefit them. She wants students to "look out for others" through working in the community, tutoring, and volunteering.
Kathleen Blakeley will be the new guidance counselor, supporting students who previously had Ms. Myers. Ms. Blakeley has been a counselor for six years, working with kids with special needs in the South Bronx for four of those years. She grew up in Long Island and attended Fordham University. She is also a Zumba instructor and does CrossFit. Ms. Blakeley chose to become a guidance counselor because she enjoys working with children, supporting them in high school, and planning their transition into college. As Ms. Blakeley is only assigned to one senior class, she will be meeting with seniors as soon as possible to get to know them better and talk about their experiences over the past four years. Ms. Blakeley states that she will "make seniors a priority" and hopes to form relationships with them. Using the junior questionnaire and a new survey, she believes she has all the resources to write strong recommendation letters. Ms. Blakeley notes that this is a new experience for her, as THHS is very different from her previous school. Nevertheless, she states "I am excited to meet new people, visit classrooms, and make myself present in order to have a positive year."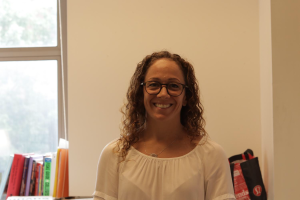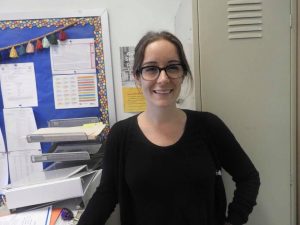 Leave a Comment
Your donation will support the student journalists of The Classic. Your contribution will allow us to purchase equipment, support our extracurricular events, celebrate our staff, print the paper periodically, and cover our annual website hosting costs.