Custodial staff does more than keep Townsend Harris clean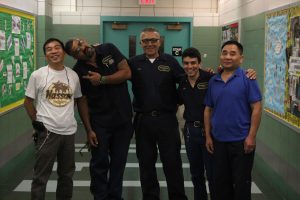 With Harrisites usually drowning in work, it's no surprise some forget their school is home to more than just students and faculty. The maintenance staff – a crew made up of an engineer, foreman, handyman, and a few janitors – is the behind the scenes team in charge of keeping the school up and running.
Hector Benitez, the school's foreman and one of the heads of the maintenance staff at Townsend Harris, has responsibilities unknown to most of the student body. Hector arrives at school around 4:30 each morning to oversee his coworkers, and get the school ready for the upcoming day. As part of his daily morning routine, he opens the gates and shuts down the alarms, turns on the lights, performs a series of tests to make sure fire alarms are working, examines equipment to see if everything is running smoothly, and paces the halls to make sure that nothing is amiss.
The maintenance component is only part of the job that Hector loves. In addition to fixing, checking, and tinkering with different objects around the building, he enjoys having the opportunity to interact with the Townsend Harris community. He says that he always tries to lighten the mood and make people smile at any given situation.
Staff members and students have a shared affection for Hector, though they occasionally participate in friendly teasing.
During an interview in the lobby, one of the security guards lightly mocked Hector from behind. Upon seeing her, Hector laughed and explained, "One part of my job is handling people like her."
At this moment, Bettye Balfour, Assistant Principal of Attendance, came along and questioned us with feigned astonishment: "You're interviewing this man? Everything he says is not true." Friend and fellow custodian Luis Perez, quickly nodded in agreement.
Hector defended himself saying, "This school has such a serious atmosphere and I like to liven things up. I also feel the need to help people when they need it. I remember when a student had convulsions and I stayed with her and I prayed for her."
Many students have fond recollections of Hector joking around in the hallways, and even bursting into song during lunch. "I remember he got up last year during my seventh band lunch to sing 'Feliz Navidad.' It was funny, and [everybody in] the cafeteria began to sing," recalled junior Raina Salvatore.
From speaking with him about his experiences at Townsend Harris, it's clear that he has a lot to smile about. "I have a wonderful boss, and the employees behave themselves," he said. "What is there to complain about?"
One of the best parts of the job for Hector is seeing former students return to the school to chat, reminisce, and catch up with what's going on in their lives. He said, "when students come back, you can tell that they've reached the light at the end of the tunnel, and it's great seeing them feel gratified and successful."
Another custodial staff member, Luis Perez, is the school's handyman.  He is mainly responsible for routine repairs throughout the building. He's been at the school for nearly twenty years and is the second-in-command under Hector. He works from 8 in the morning to 5 in the evening and is usually on the third floor.
This silver-haired, spectacled man has the same easiness and laid-back attitude as his co-workers. He recalls some of the senior pranks as the highlights of his career."Ten years ago, the seniors let chickens out as a senior prank and we had to chase them. We finally caught them and brought them to the American Society for the Prevention of Cruelty to Animals," Luis described.
"Another good one happened in 1998, when the principal said, 'When life gives you lemons, make lemonade.' So the seniors threw a box of lemons in the lobby, and we had to clean it up: we made lemonade that day. If we had kept the chickens, we would have eaten them too," he added.
<
p dir="ltr">To round up the team, Mario Vasquez makes up yet another member of the staff. If you have ever heard rock music praising the virtues of Jesus on the fifth floor, that would be nothing other than Mario's affinity for Christian rock. He has been a custodian at Townsend Harris for the last twelve years, and works from two in the afternoon to 11 at night, cleaning and preparing the school for evening functions, events, and after school programs. It's a demanding job, but he enjoys it.
"I love how pleasant the teachers and students at this school are. There's only been one serious incident in the last 10 years, whereas cops are always present at other schools," Mario explained.
His most memorable moments on the job, however, involved Townsend Harris students at their most unruly and mischievous. Like Luis, Mario described the senior pranks as a great source of anticipation and, for the custodians, subtle apprehension. "One year, the seniors put fish in every imaginable place in the school. They put fish in the lockers, down the stairs, and behind the heating vents, which made the school stink for days," recounted Mario. "Another year, someone cemented the school gates shut."
These three men keep the school a safe and clean place for students to spend a majority of their life in. Senior Maham Ghani said, "We're lucky to have such a good staff to take care of everything and make this school such a nice place to walk into everyday."
View Comments (1)
Your donation will support the student journalists of The Classic. Your contribution will allow us to purchase equipment, support our extracurricular events, celebrate our staff, print the paper periodically, and cover our annual website hosting costs.