Before the name Ovid reached our ears, reading for fun was a common practice, and the Harry Potter and Percy Jackson subcultures seemed to permeate our middle schools. Townsend Harris encourages students to read closely and think critically, but how many of its students actually take pleasure in reading on their own, and do the heavy workloads lead to a less literate student body?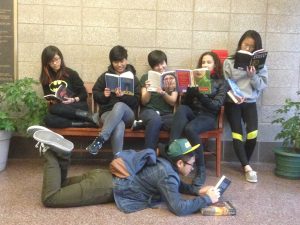 A recent survey has found that 58% of Harrisites read three or more hours a week. Those who read regularly cited young adult, fiction and fantasy as their favorite genres.
"I love reading because I constantly find 'me' when reading different texts. You become engrossed enough to feel and respond to another of the characters' emotions," said freshman Sarah Moon.
Beyond fiction and YA, Harrisites read books from an array of genres. "I read The Stranger by Albert Camus, I'm working on bringing back the school's philosophy club so I loved the book's evaluation on the stability of one's life and the justification of murder," said freshman Matthew Mandel.
Senior Maya Grozka recommended The Philosophy of Andy Warhol. "I loved it so much," she said enthusiastically. "It taught me the wide spectrum of many interesting perspectives on life. I found the vision through the artist's eyes very intriguing, and I was hooked throughout the whole book because [the author] wrote it in such a humorous way."
Despite the explosion in the popularity of reading e-books on devices such as the Kindle and Nook, as well as the reading apps available on most phones and tablets, e-reading has yet to beat the appeal of the public library. While 29% of students said they purchased books from a bookstore, 32% of surveyed students said that they got their books on an e-reader, while another 32% go for the good, old-fashioned public library. Senior Demeara Torres pointed out that the idea of free books allures many to the library.
Library and bookstores also have one major advantage over e-readers: they allow for browsing. Usually, 48% of students pick their next reading selection through casual browsing. On the other hand, 28% are usually drawn in by the recommendations of friends and teachers. Despite the fact that only four percent claimed to be influenced by the hype surrounding a book about to be adapted into a movie or television show, when asked which book they would most likely read next, 30% of students chose The Fault in Our Stars by John Green and 27% picked Divergent by Veronica Roth in a poll among recent bestsellers. While both books have generated an enormous amount of online hype, so has Rainbow Rowell's Eleanor and Park (7%) as well as Khaled Hosseini's And the Mountains Echoed (15%), neither of which are currently slated for theatrical adaption. Is there a correlation? The combined power of the young adult genre and the necessary attention from a film adaption seem to be the sweet point for inciting student curiosity.
Among the 42% of students who don't read regularly, 72% said they did not have the time. It's no secret that Harrisites have packed schedules. Along with clubs, teams, and other extracurricular activities, finding time to relax with a book can prove a challenge.
Even those who read regularly noted that their reading time has been cut into significantly due to their hectic schedules. Freshman Sarah Gafur stated, "I read on the bus, and that's if I get a seat. As soon as I get home I'm doing homework or studying. There never seems to be time for it anymore. I can't justify reading before bed because I really need sleep too."
So how do some Harrisites squeeze in some face-to-book time in between APUSH outlines and Latin declensions while others do not?
"I think it deals with the amount of passion you hold. There are some things that you can find time for, no matter how busy you may be," added Sarah Moon.
Other students believe that THHS could make more of an effort to encourage its students to read by their own choice. "Townsend should have something called DEAR that many NYC schools have. It's when students for one period just sit in a room and read any book they want," noted Demeara.
For some students, reading just isn't something they would do, no matter what their workload. When asked if he would read if he was given less homework and tests, senior Daniel Wuest replied, "Personally and truthfully, I don't believe so. I would just go on Netflix binges."
Even students who read regularly felt that staying focused was a challenge: "spending time on the internet can be a major distraction and holds me back from reading," observed Matthew.
What was overwhelmingly clear is that the students who read on their own didn't do so because they wanted to improve their critical reading scores, but because they had a passion for ideas, writing, stories, and characters.
Additional reporting by Jason Lalljee