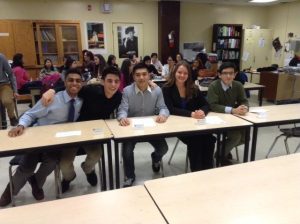 Months of hard work and dedication paid off when students of Linda Steinmann's AP U.S. Government and Politics class took third place on a citywide level at the We the People Competition on January 11 at Martin Luther King Jr. High School.
The We the People Competition, sponsored by the Center for Civic Education, is one that requires selected students from various high schools to show a panel of judges their thorough understanding of the United States Constitution.
Every school is divided into six teams, centered on each of the units of the We the People: The Citizen & the Constitution textbook. Each judgment commences with a four-minute opening statement from the group and is followed by six minutes of follow-up questions from judges on constitutional principles.
"The questions asked by the judges could focus on relations between the Senate and the House, or the [Constitution] itself or about issues the Constitution raises," said senior Chloe Chai.
There were unit awards given to Unit 6 ("What is the role of a Citizen in a Democracy?") and Unit 1 ("What are the Historical and Philosophical Foundations of the Constitution?") for their outstanding performances, with several students receiving commendations.
The THHS team, which consisted of twenty-eight students, started preparing their entries in October 2013.
Senior Trina Cheng discussed the process that the team employed to train for the event.
"For two weeks, my group tailored our speeches and did mock competitions in class. We studied the workbook we were given and did our best to answer the questions."
While Dr. Steinmann was proud of the team, she also admitted that "the competition is getting better."
When compared to the winning team at James Madison High School, Dr. Steinmann  said, "I know we were better prepared. I think they are better actors. NYC judges like students to be extemporaneous."
Senior Afrin Khatun felt that the We the People Competition was a unique and valuable experience.
"We the People greatly helped me overcome my fear of public speaking," she said. "I realized that all I needed was a little more practice."
"In the end," she adds, "it all comes down to the amount of effort put in. And we put in a lot."